Pandemic has left its mark
Books on Covid stand out at Boi Mela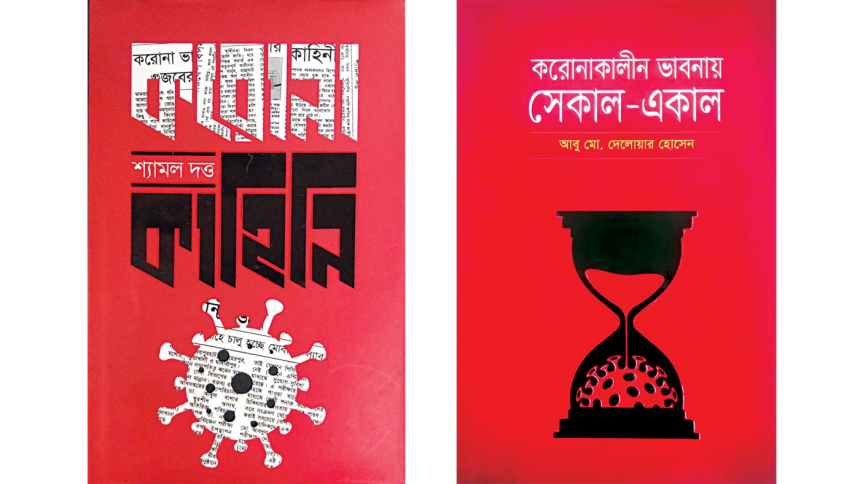 With the Covid-19 pandemic engrossing almost every aspect of human lives in the last two years, literature was not excluded from these extraordinary effects as well. Writers were engulfed with new connotations and realisations, and that's what influenced their works immensely, be it fiction or non-fiction.
This trend was observed in this year's Amar Ekushey Boi Mela as well, with many books being sold on the pandemic.
Late Tareq Shamsur Rehman, former chair of international relations at Jahangirnagar University, wrote a book just before his death, titled "Corona Poroborti Bishwa Rajniti". The book, focusing on multiple aspects of international relations influenced by the pandemic, has been published by Shobha Prakash.
"Coronakaler Kobita: Aro Ek Biponno Bishoy", edited by Khasru Parvez from Katha Prakash; "Pandemic 2: Chronicles of a Time Lost" written by Slavoj Zizek and translated by Dr Masud Alam from Oitijya; "Corona Kahini" by Bhorer Kagoj editor Shyamal Dutt from the newspaper's publishing house; "Corona Kaale" by Awami League general secretary Obaidul Quader from Samay Prakashani; "Gudduburar Corona Protisedhok Abisker" by Anisul Haque from Prothoma; "Aninditar Coronajuddho" by Baren Chakraborty from Abosar Prakashani: are among some of the many books influenced by the pandemic in this year's fair. 
Besides, books by economists and doctors on public health, socio-economic and political implications of the pandemic can be seen in the fair as well. The most prominent one in this category is "Coronakaler Arthoniti" by Bangladesh Bank's former governor Dr Atiur Rahman from Bhorer Kagoj. 
The general readers' interest in the topic is noticeable as well. Morshedul Hasan, who came to the fair from Gopibagh, said, "I have survived Covid-19 on a couple of occasions. I know that the journey is not easy, and that's what interests me in such books."
Meanwhile, the cover of "Wireless to Cashless" -- written by Rezaul Hossain, CEO of Upay, UCB's mobile finance service -- has been unveiled at the fair.
The writer is a veteran in the telecom and mobile financial service industries. Rezaul's book narrates his long journey of over 26 years of leading the top local and multinational companies in the country.