Ghartera's 'In the Terrains of Fear' expresses that art is for everybody
Ghartera is a curatorial project that challenges the mainstream narratives of art through their collaboration with artists from diverse backgrounds, and experimentation of innovative forms of expression. Their second edition kicked off with the group show, "In the Terrains of Fear", at Lalmatia, Dhaka, on September 17, 2021.
The exhibition is a collaboration with the Goethe Pop Up Festival, supported by Goethe Institut Bangladesh. It is curated by Kazi Tahsin Agaz Apurbo, Ata Mojlish, Aananda Antahleen, and Doito Bonotulshi. Their aim is to step out of the confines of the 'white cube', whose normative nature of displaying art caters mostly to a particular class of the country, denying access to the rest.
This intention of making art more accessible to the public is apparent in their use of the under-construction venue of B.B.Q Express, a new restaurant located in an alleyway in Lalmatia. Anyone who wishes to look at the art can walk into the space.
"The traditional gallery space often intimidates audiences with its rules that set who the viewer can be or can't be. But we believe that art should be interactive and that it is for everybody," says Kazi Tahsin Agaz Apurbo, one of the curators of Ghartera. "Stepping away from the standards of high art, we intend on making art more interactive and accessible with our collaborative approach giving voice to anyone to use art as a tool to express themselves in the pursuit of creativity. This year's edition focuses on breaking the fear of those normative practices."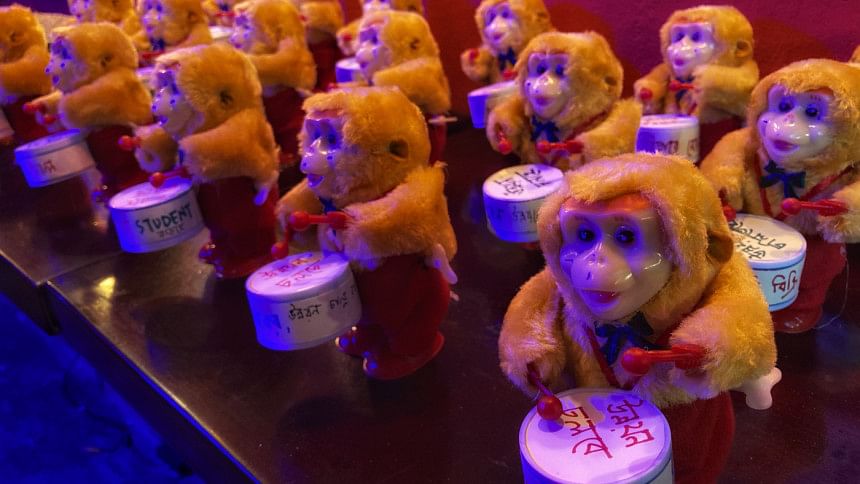 With the theme of fear in mind, the show brings together critically engaging projects by a conglomeration of artists, writers, activists, researchers, collectives and curators, merging into a collective voice of chaos and harmony through different narratives.
Through "Loss of Life", an artwork that is translated into mediums of painting, text and a music performance, Taiara Farhana Tareque focuses on her fear of the pain associated with chicken farming. Her project, which questions the realities around animal cruelty, also aims to spread awareness regarding the issue through the distribution of posters around the city with an open discussion set to take place on the last day of the exhibition.  
"The main focus of my work remains self-censorship. But I also address other issues which are closer to my heart. I dwell on growing inequality plaguing the country, the ongoing class conflicts which are very subtle, but also present themselves on a day-to-day basis," says Biglipseclipse, one of the artists. "I focus on identity politics and how what a Bangladeshi is, is defined from a very Bengali lens and defined mostly by one very vocal and political group of people. I also address how the language I use for my work is not very accessible so in the exhibition, if you notice, my work is also displayed in a very inaccessible placement. Through all these, I hone in on how censorship, state or self, only adds to limiting our discourse and often all discourse is monopolised by a civil society far removed from the problems they pretend to want to address."
Kawsar Mia explores his fears surrounding his identity of belonging to a minority community, and how it is viewed under the scrutinising lens of the country through his work, along with the pain that permeates from that experience. His painting also bears symbols of hope and aspiration that comes from making the best out of that situation.
AAA battery, an anonymous collective breaking away from the norms, steps into a non-art format with their conversational art that offers a strong critic of the existing political system. They refuse to play by the conventions of the traditionalist white cube and its rules of display that confines each artist to an individual gallery space.
Photographer Orchid Chakma focuses on the history of the Kaptai dam and the associated political implications of it on the indigenous communities in his work. He represents the life of indigenous communities, their tales of displacement and the resilience of the CHT population, who have been subjected to years of systematic oppression throughout different eras of geopolitics.
The event also showcases works by Shamset Tabrejee, Razib Datta, Junaid Iqbal Ishmam, Shehzad Chowdhury, Oishik Jawad, and the Khyapa collective.
"In the Terrains of Fear" shatters barriers of normative art forms, pushing the limit of what we call art with a brilliant effort in making art accessible to all. The exhibition will run till September 23 from 3 pm to 9 pm. 
The author is a student of Political Science, and a freelance journalist. Email: [email protected].