233 Trees to be Cut for Widening Road
Woman dies as log falls on her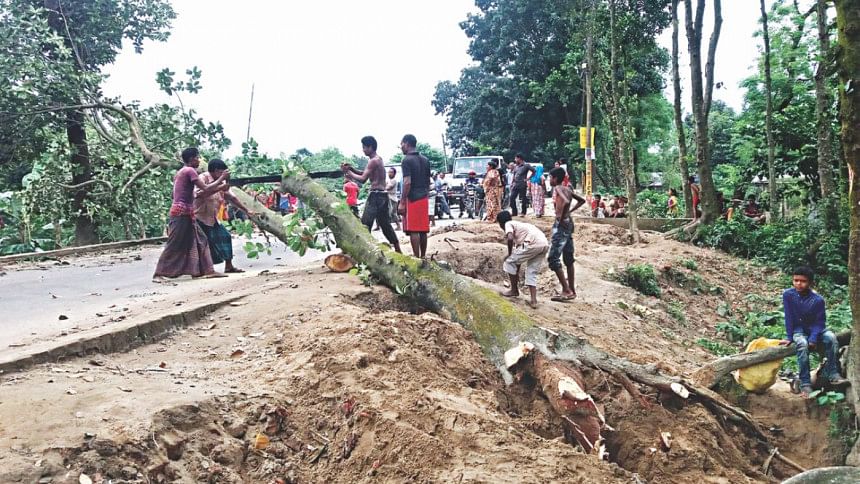 A woman pedestrian was killed as a log fell on her when workers were cutting roadside trees near Tangon Bridge on Railway Station Road in the town yesterday afternoon.
The victim, Nurun Nahar, 38, wife of Bablu of Collegepara in the municipality area, was crossing the point around 2:30pm when a log of a tree fell on her, witnesses said.
Locals brought the seriously injured woman to Thakurgaon Sadar Hospital.
Doctors referred her to Rangpur Medical College Hospital but she died on the way.
Contractor Dipak Kumar Roy engaged workers for cutting the roadside trees after winning a tender bid of the Roads and Highways Department (RHD).
He could not be contacted immediately. 
"Police went to investigate the matter after getting information. Three people have been arrested in connection with the incident," Abdul Latif Mia, officer-in-charge of Thakurgaon Police Station, said over cell phone. 
At least 233 roadside trees, including mahogany, shishu, rain-tree and jackfruit, along the 4.34-km-long road from the town to the railway station in the municipality area, are being cut down for widening the road. 
The RHD floated tender on September 6 for widening the road under the project 'Improvement of important regional highways to appropriate standard and width (Rangpur Zone),' at a cost of Tk 63 crore, said Joy Prokash Chowdhury, district sub-divisional engineer of RHD. 
To implement the project, the RHD in Rangpur gave orders for cutting the trees to two contractors, who won the bid by offering the highest rate for the trees.
During a visit to the spot on Monday, this correspondent saw workers chopping down the trees.
"Spreading branches of the trees on both sides of the road served as a beautiful canopy over the road. Many trees could have been saved if the trees on one side were kept," said Principal Ataur Rahman, who lives near the road in Gobindanagar.
Local cultural activist Ahmed Raju said the felling of trees should be discouraged to protect natural beauty and environment.
Executive Engineer of Local Government Engineering Department Kanteswar Barman said the road will be widened in such a way that many trees will be saved.
"The RHD planted the trees after constructing the road in 1988. Over 1,000 trees will be planted alongside the road after completion of the widening work. It is risky to plant large trees in the middle of the road," Joy Prokash said.