What next for Ipshita?
Husband's brutality lands her in hospital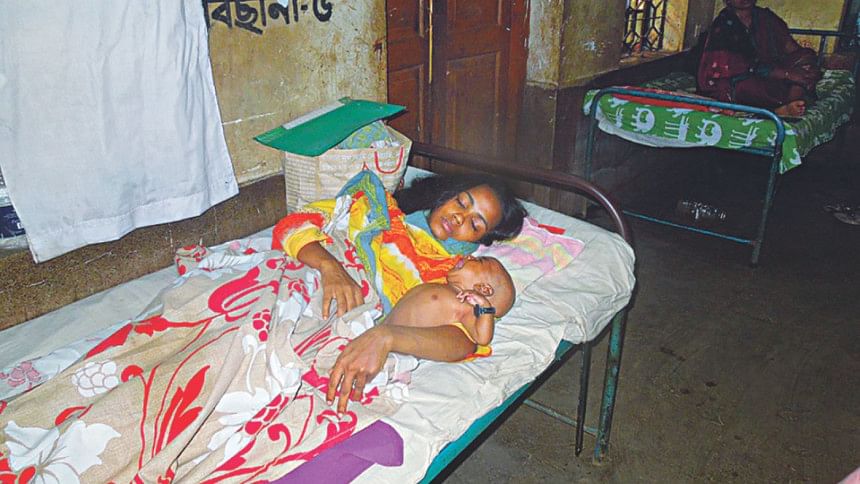 A young housewife, allegedly tortured by her dowry-greedy husband and in-laws, is undergoing treatment at a Nilphamari hospital for the last four days with severe pain all over her body.
The 22-year-old victim Ipshita Yesmin is daughter of Md Ishaq Ali, a former employee of Dhaka University and a resident of Mirpur in Dhaka.
Holding her two-month-old son in her lap at the hospital bed Ipshita said, following a Facebook friendship with Masud Rana Bidyut, 24, son of Habibur Rahman of Uttar Balapara village in Sadar upazila, they got married on their own decision in 2017 and started living at a rented house in the capital.
After the marriage her parents snapped all relationships with her, she said in a sad voice.
"After I became pregnant my husband took me to his village home and started living there, which made my in-laws very unhappy," Ipshita said, adding that since returning there her mother-in-law had been demanding Tk 10 lakh from her parents as dowry.
On January 10, she fled from her in-laws' house and took admission at a hospital due to injuries sustained from her husband and in-laws' brutal physical torture, she said, adding that some local influential people, however, settled the matter.
"On Sunday, my husband beat me mercilessly with bamboo while his mother Masuma and sister Habiba tried to strangle me till I fell unconscious," she alleged, adding that some local youths rescued her and admitted her to Nilphamari 100-bed Hospital.
Officer-in-Charge of Sadar Police Station Babul Akhtar said they will start investigation after getting written complaint.