War crimes trial: Forkan verdict any day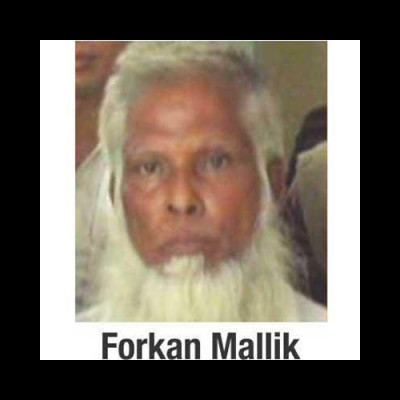 A tribunal in Dhaka today concluded the trial proceedings of war crimes suspect Forkan Mallik of Patuakhali and kept the case waiting for verdict delivery.
After concluding hearing the closing arguments placed by both the prosecution and defence lawyers, the three-member International Crimes Tribunal-2 led by its Chairman Justice Obaidul Hassan kept the case CAV [Curia Advisari Vult, a Latin legal term meaning verdict could be delivered anytime].
An alleged Razakar commander from Mirzaganj in Patuakhali, Forkan is facing five charges for committing crimes during the nine-month Liberation War in 1971.
On June 25 last year, the Detective Branch of police arrested Forkan, now 63, at Rupatali Bus Stand in Barisal. He was later shown arrested in the war crimes case.
An investigation agency of the international crimes tribunals completed investigation into the allegations against him on October 27 the same year.
The tribunal accused him of the following:
Charge 1: On August 12, 1971, corresponding to 26 Sravan, at about 1:30pm Forkan Mallik, a member of local Razakar force, accompanied by other Razakars and Pakistan army apprehended Hafij Uddin Khalifa of village Kakarbunia and local thana Awami League leader Abdul Kader Jomader and took them to a gunboat where they were detained and later killed.
Then group then apprehended Dr Debndra Nath Sarker from his house and shot him dead. Forkan bayoneted Biva Rani to death when she attempted to save her husband Debndra Nath.
Charge 2: On August 15, 1971, corresponding to 29 Sravan, at about 12:00pm Forkan accompanied by other razakars apprehended three brothers, Ramani Kundu, Shyam Sundar Kundu and Sunil Kundu, from their houses at Subidkhali Bazar under Mirjaganj Police Station of the district Patuakhali and took them to the Razakar camp set up at an old hospital building where the detainees were forcibly 'converted' to Islam.
Charge 3: On August 17, 1971, corresponding to 31 Sravan, at about 8:00pm Forkan along with his accomplice Razakars attacked the house of Ramkrishna Saha at Subidkhali Bazar under Mirjaganj Police Station of the district Patuakhali and apprehended Golapi Rani Saha, the unmarried daughter of Ram Krishna Saha, and took her to a place known as Jugibari where Forkan and others violated her.
The Razakars then abandoned the unconscious woman near her house. Golapi Rani eventually died around midnight of 18 August 1971.
Charge 4: On August 20, 1971, at about 10:00am Forkan and his accomplices attacked the house of Lalit Karmakar at village Subidkhali Bazaar under Mirjaganj Police Station of the district Patuakhali and abducted his unmarried daughter Shova Rani and his daughter-in-law Sushama and took them to other Razakars where both women were repeatedly violated by the Razakars.
At around midnight of August 21, 1971, the victims were abandoned in front of their house. Afterwards along with their family they were forced to leave for India.
Charge 5: Between August 22, 1971, about 1:00pm and August 25 early morning, the accused and other Razakars accompanied by the Pakistan army attacked Kakarbunia Bazar and opened fire indiscriminately in which one Sanad Kumar Haldar was killed. 
Forkan Mallik shot Hatem Ali to death with his rifle, detained Hatem's daughter Aleya Begum. On the same day they killed one Elemuddin.
Aleya was taken to Patuakhali circuit house where she was detained in a room along with 20-25 other young girls. The Pakistan army men and Forkan repeatedly violated Aleya.