On verge of release, Mahmudur shown arrested in case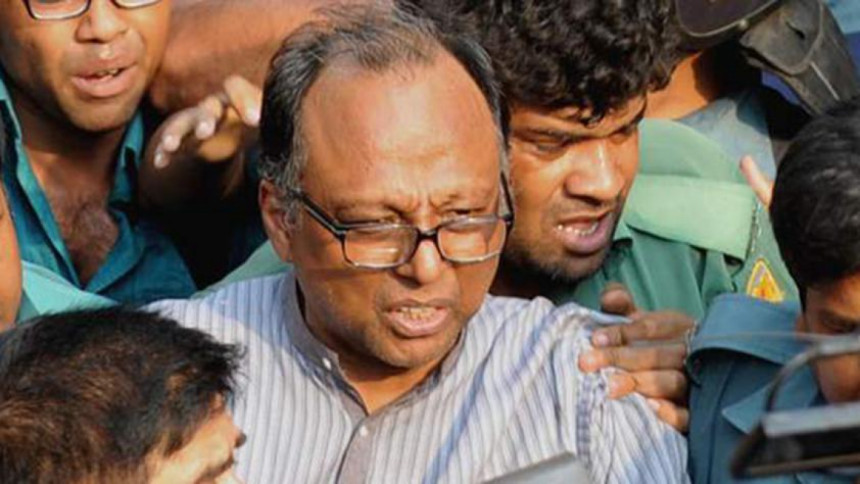 Bangla daily Amar Desh acting editor Mahmudur Rahman was shown arrested in a blast case a day after the apex court paved way for his release from jail.
Harun-Or-Rashid, a sub-inspector of Shahbagh Police Station submitted the plea with a seven-day remand prayer before Metropolitan Magistrate Golam Nabi accepted it.
The judge will deliver order on the remand prayer February 22.
Mahmudur was expected to be released from jail as the Supreme Court yesterday upheld a High Court bail granted to him in a sedition case.
Sahidur Rahman, a prosecutor of the International Crimes Tribunal, filed the sedition case against Mahmudur with Tejgaon Police Station on December 13, 2012, under Information and Communication Technology Act, 2006.
In the case, Mahmudur was charged with sedition for publishing alleged Skype conversations between Justice Md Nizamul Huq, then chairman of International Crimes Tribunal-1, and Ahmed Ziauddin, an expatriate Bangladeshi legal expert.
According to the sedition case statement, Mahmudur, by publishing the alleged conversation, created a negative impression of the tribunal at home and abroad and obstructed its proceedings.
Mahmudur was arrested at his newspaper office in the capital's Karwan Bazar on April 11, 2013.
Following a bail petition filed by Mahmudur, the HC granted bail to him for six months in the case.
The government later on filed a petition with the SC seeking a stay on the HC order.