Tributes pour in for Fahim Munaim
Facebook and Twitter have been stirred with the tributes, obituaries and lamentations since morning after the news of the untimely demise of Syed Fahim Munaim spreaded.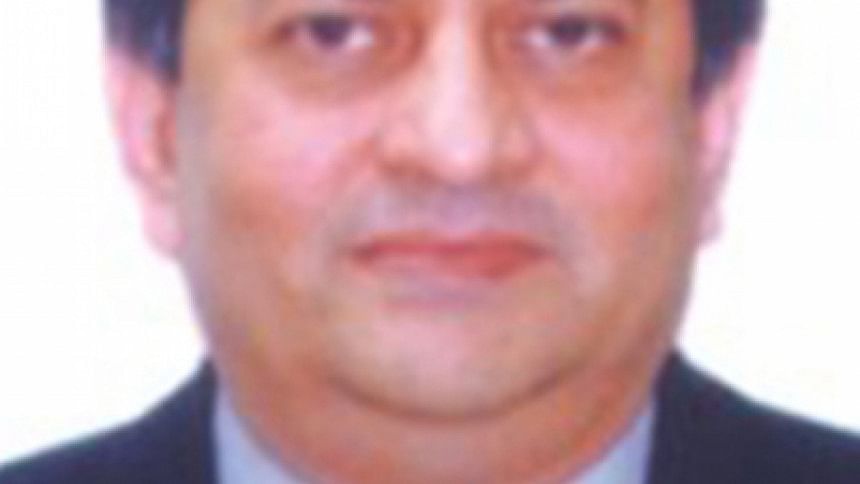 Munaim, chief executive officer and chief editor at Maasranga Television and a well-known personality in Bangladeshi media, died of cardiac arrest at the age of 62 around 6:15 am this morning.
Immediately after his death, his well-wishers and acquaintances on social media paid tribute to the work and life of Munaim, a former executive editor of The Daily Star.
Popular TV actress and media personality Suborna Mustafa wrote in a Facebook post that she will always be indebted to Syed Fahim Munaim because it was he for who "Pinjore" happened.
The official page of Indian High Commission in Bangladesh also paid tribute to the late media personnel.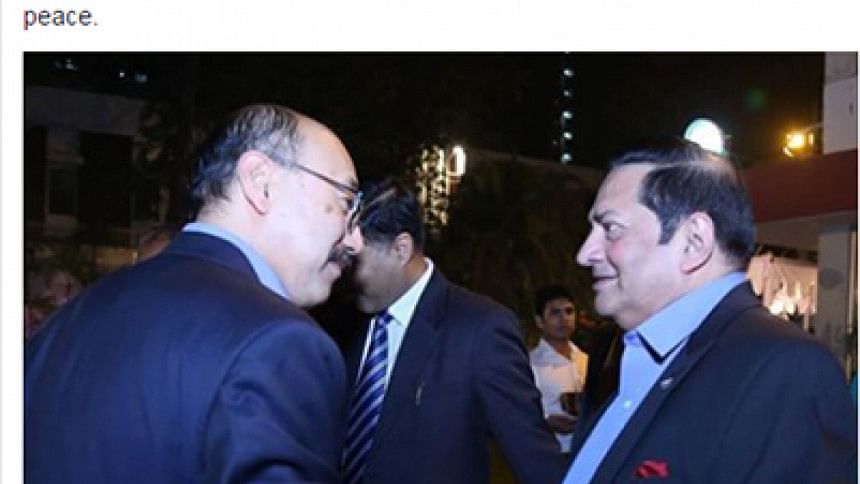 Bangladesh Telecommunication Regulatory Commission (BTRC) secretary Sarwar Alam wrote "I am really shocked, saddened and my heart is full of sorrows at his premature and sudden departure."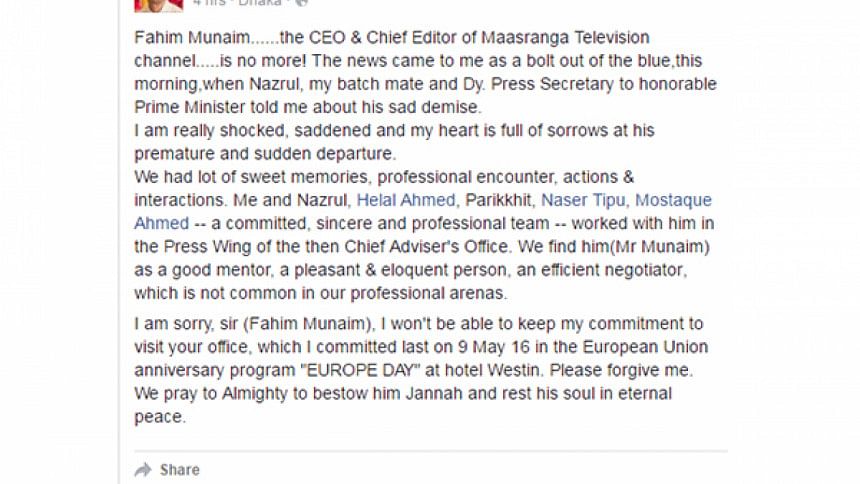 "Bhaiya ie Fahim Munaim always treated me as his little sister.Bhaiya no more,cannot fathom the sudden loss! Simply devastated,he sent me a sweet message on 8 th May after I completed the Maasranga show with Armeen in the morning."writes singer and professor, Nashid Kamal .
Harsh V Shringla, High Commissioner of India to Bangladesh tweeted, "Shocked to learn of untimely demise of Masranga TV CEO Fahim Munaim"
Popular celebrity Elita Karim wrote. "May you rest in peace dearest Fahim sir"
May you rest in peace dearest Fahim sir.
Woke up to this shocking news.
This morning, I lost a mentor, a... https://t.co/U70fqyXVg3

— Elita Karim (@elitakarim) June 1, 2016
"He was a wonderful man and I was close to him. He shared my passion for Baul Music and Sufism. He will be missed. Will everybody please join me in a moment of prayer for the deceased. Thanks," says well known Baul singer and director of operations at DHAKA FM 90.4 Mac Haque.
Writer and Executive Vice President at Bitopi Leo Burnett, Kaniska Chakraborty writes "The person who introduced me to writing my ramblings is no more."
Society for Promotion of Bangladesh Art also paid tribute to their deceased honourable member through Facebook post.
"A very sad day for me. Syed Fahim Munaim, former executive Editor The daily Star passes way today. I worked very closely with him." Writes Sher Ali, Advertising Manager at The Daily Star and former colleague of the deceased.