Summer King tomato farming gets popular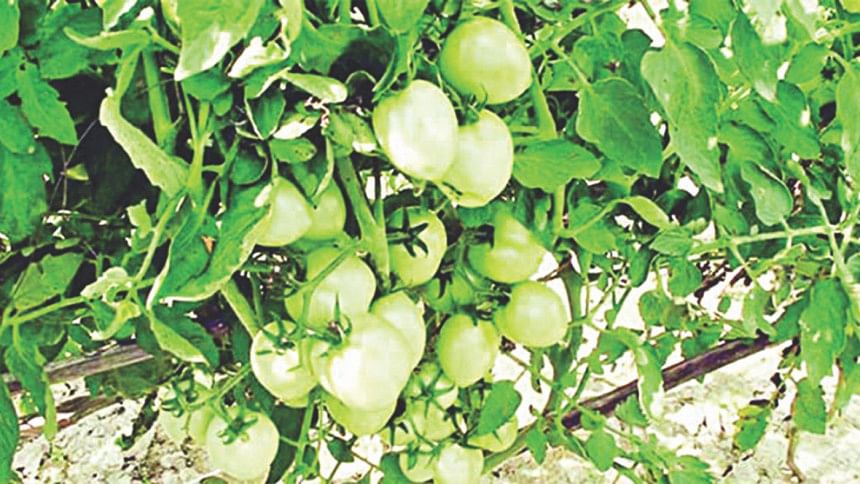 Cultivation of Summer King tomato, a variety of tomato that can be grown in the summer, has become very popular in Benapole under Sharsha upazila of Jessore.
Farmers said a sapling bears fruit within two months of planting, and one plant can yield tomatoes for five years.
They said the local variety tomato gets spoiled quickly after ripening and is wasted, but the Summer King variety takes longer to get spoiled so there is less waste, as a result, farmers and traders suffer less loss.
The cost of cultivating Summer King tomato is around Tk 40,000 to Tk 60,000 per bigha of land. The yield is 70 to 80 maunds per bigha and the price is around Tk 3 lakh per bigha. The price per kilogram is between Tk 70 and Tk 80.
Farmer Shah Jahir Ali of Laxmanpur village said Summer King tomato is always available in the market and there is good demand for it, so they are being benefited by cultivating this tomato.
Ismail Hossain, a tomato trader of Sharsha said this variety of tomato used to be imported from India, but it was not always available. Now the tomatoes are always available in the market as it is being grown in Bangladesh, he said, adding that the demand is also good.
Upazila Agriculture Officer in Sharsha Hirok Kumar Sarker said the agriculture department encourages the farmers to cultivate Summer King tomato as a high value crop. This fruit is available for twelve months and prices are also good, he added.
The department had set a target of cultivating tomato on 280 bighas of land this year, while it has been cultivated on 320 bighas, he added.