Cops charge batons at Medical test protesters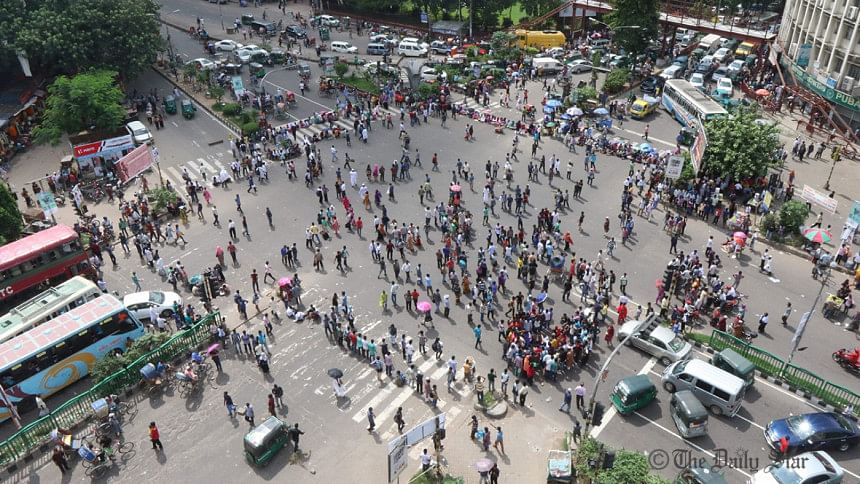 Police charged batons to disperse medical test protesters demanding retake of medical and dental college tests at Karwan Bazar today, as they were heading towards health directorate to submit evidence of question paper leak.
Expressing solidarity with the protesters, Samrajjobadbirodhi Chhatra Oikkyo and Pragatishil Chhatra Jote, two alliances of 14 left-leaning student bodies also observed strikes at many educational institutions throughout the country.
Around 300-400 students along with their guardians took position at the Central Shaheed Minar premises around 11:00am this morning and held a sit in.
Later, they led a procession to the busy intersection of Shahbagh around 12:30pm breaking police barricade in front of the Public Library.
The two alliances and students of some medical colleges also joined the procession. They continued blocking Shahbagh intersection till around 2:00pm.
As a result, traffic at all roads through Shahbagh came to a standstill. Later, they tried to march towards the health directorate at Mohakhali.
Cops managed to obstruct some of the protesters at Bangla Motor intersection while others managed to proceed to Karwan Bazar.
Two injured demonstrators, named Tanvir and Arafat, were taken to Dhaka Medical College emergency unit after they were wounded. Demonstrators alleged that more than seven demonstrators were injured while police detained two students.
Shiblee Roman, assistant commissioner of Ramna zone, said, "We barred the protesters to avert public sufferings."
The agitators eventually came back to the Central Shahid Minar and held a rally there till evening.
Khaled Saifullah, a spokesperson of the movement, told a press briefing that they were compelled to adopt this way of blocking the road owing to inertia of the government to their demand.
"We wanted to submit the evidence of question paper leak, but cops swooped on us and foiled our peaceful procession. We will also stage demonstration tomorrow protesting police assault," he said.