Students end hunger strike after assurance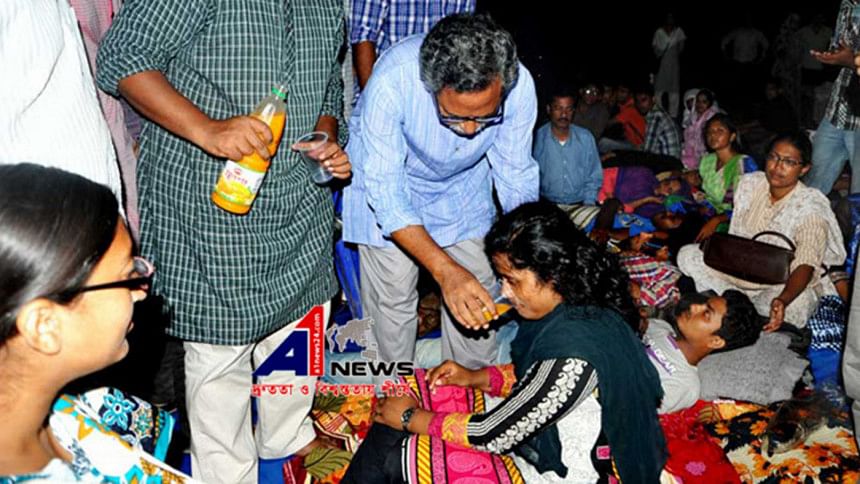 Students demanding retake of medical admission examinations ended their hunger strike today following assurance that a probe committee will be formed to investigate the issue.
Noted Economist Prof Anu Mohammad ended their fast unto death at 6:30pm by feeding them juice after around 30 hours of fasting.
The students protesting the leakage of the medical and dental college admission test question began their fasting at the capital's Central Shaheed Minar around 11:00am on Wednesday.
Around 60 admission aspirants and guardians took part in the fasting. Some protesters fell sick at the programme due.
Anu Mohammad said they will form the mass probe committee through a meeting on October 19 at TSC as the government failed to form any probe committee in the last 27 days since the leakage of the questions.
"This committee will publish a report after collecting all evidence on leakage of the question papers and will submit it to the authorities concerned to take necessary actions," he said.
If government does not take any action as per the report they will build public opinion on it, he added.
Earlier, Akash, one of the demonstrators said that they were determined to go ahead with the hunger strike until the health ministry accepts their demand for re-running the test. Later, he was taken to Dhaka Medical College Hospital as he fell unconscious due to the starvation.
The demonstrators earlier failed to change the government's position by staging demonstrations like marches, rallies, human chains and exhibitions.
The candidates have been demanding a fresh admission test as, they claimed, the test questions were leaked a day before the exam was held on September 18.
Intellectuals, politicians, leaders and activists of some student organisations, students of Dhaka University and the Bangladesh University of Engineering and Technology (Buet), and professionals joined the protesters and expressed solidarity with their demand.