Don't parade detainees before media: HC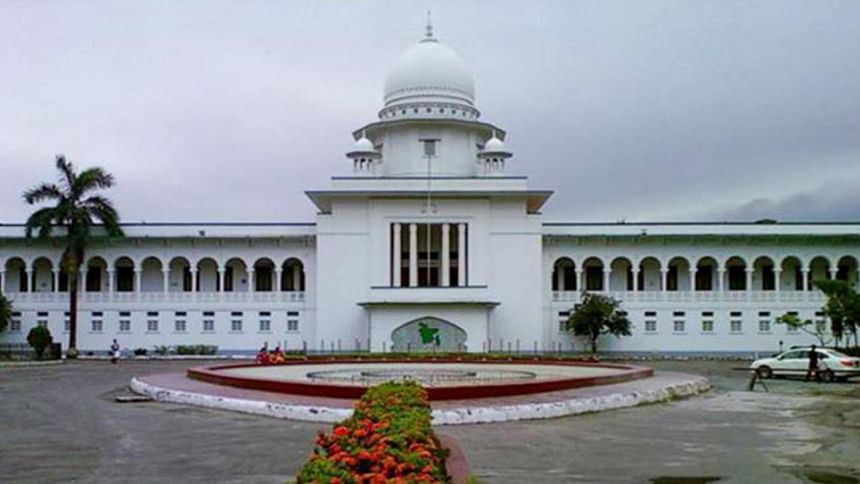 The High Court today asked the inspector general of police to prohibit the law enforcement agencies from parading any detainees before the media before producing him or her to a court.
It came up with the directive while delivering a verdict on an appeal filed by a Jama'atul Mujahideen Bangladesh (JMB) leader challenging the death sentence handed down to him for detonating a bomb at Gazipur police superintendent's office in 2009.
The HC commuted the death sentence of the banned outfit leader, Mamunur Rashid alias Zahid, to life imprisonment, as it found negligence of the investigation officer in probing the case and collecting evidence, court sources said.
The bench of Justice M Enanyetur Rahim and Justice Amir Hossain expressed dissatisfaction at the then SP of Gazipur Abdul Baten for parading the JMB leader before a press conference and also suggested the IGP to take departmental action against the IO for his negligence.
"We are constrained to express our note of concern with the irresponsible act of the then superintendent of police of Gazipur in convening the alleged press conference in his office, where the alleged occurrence took place, to project the arrestee Mamunur Rashid alias Zahid and recovered bombs in the manner as described in the first information report," the judges said.
"It is also desired that the inspector general of police will give necessary instructions to all the law enforcement agencies, so that they refrain themselves from projecting any accused immediately after his/their arrest in the media before producing them in the court in order to show them publicly in the manner they are being projected not," the HC judges added.
According to the prosecution, Mamunur Rashid on February 20, 2009 hurled a grenade at police officers and journalists present in Gazipur SP's office during a press conference, leaving around 16 people injured.
Earlier on that day, police captured Mamunur and three other members of the militant outfit with five grenades and a huge quantity of bomb-making materials from capital's Tongi.
Mamunur caused the explosion when he and the others were paraded before the media, Deputy Attorney General Shaikh AKM Moniruzzaman Kabir told The Daily Star citing from the case statement.
The convict flung himself on the seized grenades on display and managed to pull the pin out of one. In a split of a second, he hurled the grenade at the police and journalists.
Following the incident, police filed a case against Mamunur Rashid with Joydevpur Police Station.
On March 13, 2012, the Speedy Trial Tribunal-4 sentenced Mamunur Rashid of Saghata in Gaibandha district to death and acquitted three others of the charges, DAG Moniruzzaman added.