Stone lifting makes 3 rivers dry
Arable lands turn sandy in Lalmonirhat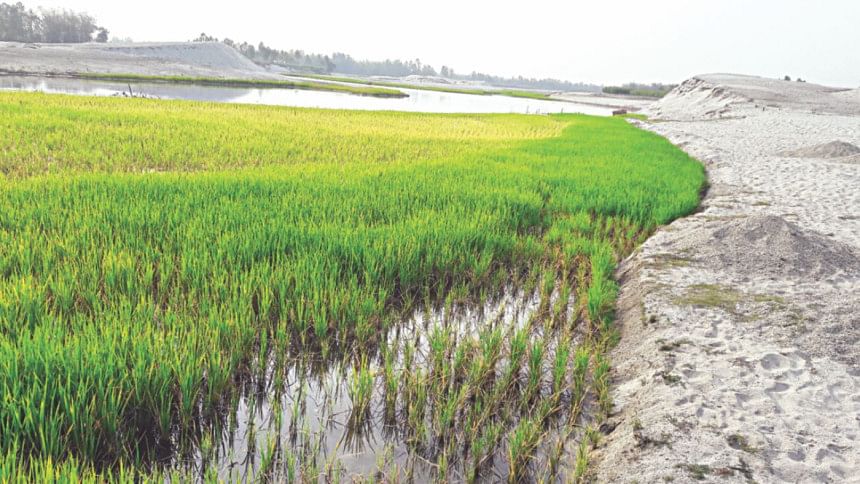 Illegal stone lifting with dredgers was stopped in June last year, but vast areas of arable lands in Patgram upazila of the district had turned into sandy tracts by then.
Sub-Divisional Engineer (SDE) of Water Development Board (WDB) in the district Mohammad Al-Mamun said round-the-clock stone lifting along 25 km of 32 km on the Dharla river, 9 km of 18 km on the Saniyazan river and 7 km of 12 km on the Singimari river left big piles of sand on the beds of the rivers.
The sand piles act as barriers to the flow of water during the dry season and cause flood during the monsoon, locals said.
The villagers are very worried about their livelihood as they do not know how or when the three rivers will regain their normal flow.
Ashraf Hossain, 55, a farmer of Kawamari village, said he and many other farmers have been facing livelihood crisis as their arable lands have turned sandy due to the illegal stone lifting from Dharla river. "We did not dare to protest against the stone lifters for fear of harassment as they are economically and politically influential," he added. 
"We used to irrigate our crops with water from the river a few years ago, but now the river is crying for water," Ashraf said.
Helemul Ali Prodhan, 68, a farmer of Islampur village, said BNP-Jamaat men started illegal stone lifting from the three rivers in 1992, and Awami League men started in 1996 after the change of government. "Illegal stone lifting from the rivers continued non-stop till June in 2016," he added.
"Political people got benefit from illegal stone lifting, even though it harmed our rivers, environment, agriculture and bio-diversity," said Disarul Islam, 55, a trader at Burimari land port.
SDE Mohammad Al-Mamun told The Daily Star that the Dharla, Saniyazan and Singimari rivers at Patgram upazila get less water flow from upstream during this season, and also face barriers like the sand piles and deep holes that were created on the riverbeds due to continued stone lifting for many years.
It will not be possible to get normal flow without proper dredging of the rivers, Al Mamun said, adding that the district WDB has proposed to the water resources ministry to start dredging of 4 km of the Dharla river and 3 km of the other two rivers
Patgram Upazila Nirbahi Officer Noor Qutubul Alam said illegal stone lifting from the rivers has been stopped, and if anybody tries to do it again the administration will take stern action, adding that a total of 450 dredgers were employed in the illegal stone lifting in many villages in the upazila.
District Agriculture Officer Nur Alam said around 1,200 acres of land alongside the three rivers have been affected by stone lifting.
Meanwhile, illegal extraction of stones from the Dharla river has put the Patgram-Sarkarerhat road at risk of being eroded.