Spurious milk production rises in Pabna ahead of Eid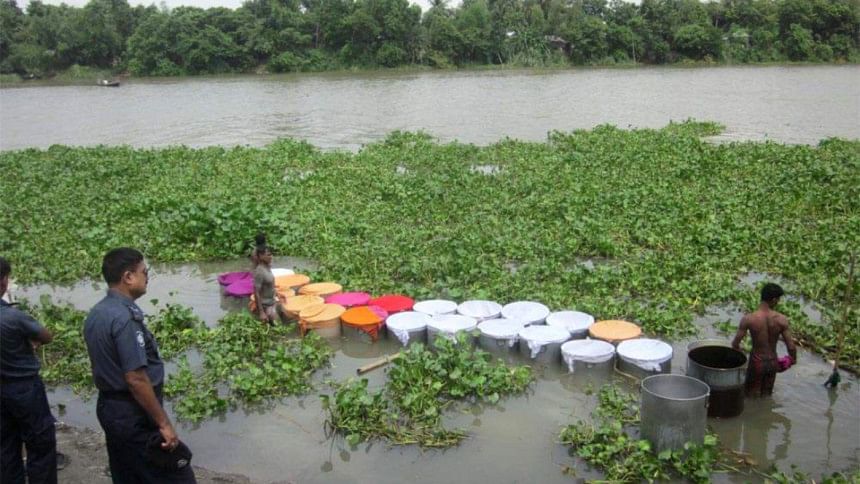 Producers of adulterated milk and curdled milk are active in famous milk producing areas of Santhia, Bera and Faridpur upazilas under the district as demand of the items is high during the ongoing Ramadan, especially ahead of the Eid-ul-Fitr.
During the last couple of weeks, mobile courts conducted nine drives in the three upazilas and sealed off 15 spurious milk factories but many people have continued the callous act, sources said.
A mobile court led by Faridpur Upazila Nirbahi Officer (UNO) Shah Momin sealed off two spurious milk factories at Gopalnagar village of Faridpur upazila and destroyed 750 litres of spurious milk and 8 kg of butter there on Saturday noon.
Owners of the factories, Gopal Ghosh and Biplob Ghosh were also fined Tk 50 thousand and Tk 30 thousand respectively.
Earlier on July 6, the mobile court raided milk factories at Ratanpur and Demra Bazar in the upazila, sealed off eight fake milk factories and fined them Tk 1 lakh.
Adulterated milk producers use soda, curdled milk abstract and chemicals in the item, posing serious health hazard for consumers, said UNO Md Shah Momin.
"Fake milk producers are active in this leading milk producing area as the demand for milk and butter has increased ahead of Eid. Our drive against the adulterated milk and butter factories will continue," he added.
There are at least 50 spurious milk and butter factories in Faridpur upazila, sources said.
The UNOs of Santhia and Bera upazilas also raided six spurious milk factories in last couple of weeks and fined and sealed those off, officials said.