Sacrifice marks Eid-ul-Azha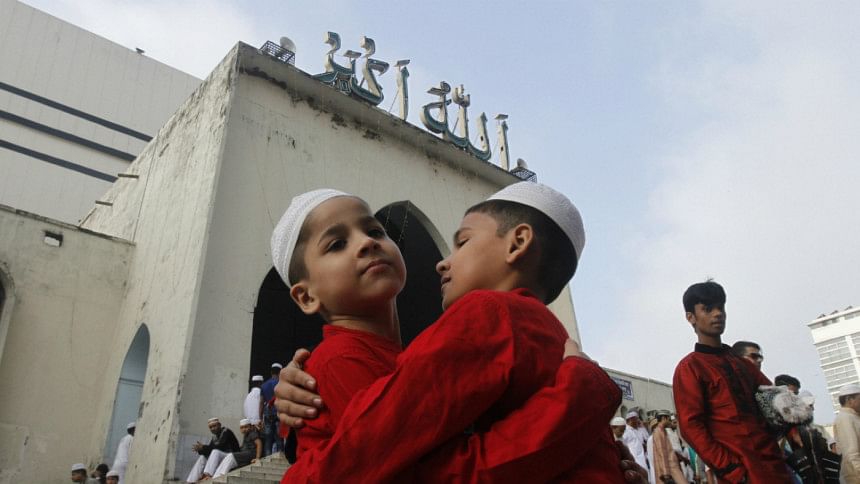 Muslims across the country started celebrating Eid-ul-Azha by saying early morning prayers and slaughtering sacrificial animals today.
After the prayers, they exchanged Eid greetings with friends and neighbours saying 'Eid Mubarak' (Have a blessed Eid).
The well-off Muslims sacrificed cows, goats or other animals, keeping a portion to feed themselves and distributing the rest to friends, family and the needy, commemorating the great sacrifice of Prophet Ibrahim (AH).
The largest Eid congregation was held at Sholakia Eidgah in Kishoreganj.
In the capital, the main Eid congregation was held at the National Eidgah on the High Court compound at 8:00am. President Abdul Hamid offered the Eid prayers at the National Eidgah.
By the time, several million people left the overpopulated city to celebrate eid with their families in villages, braving the hassles of travel as a three-day Eid holiday began on Thursday.
However, Prime Minister Sheikh Hasina celebrated the Eid in New York while BNP chairperson Khaleda Zia in London.
Sheikh Hasina went to New York to attend the 70th United Nations General Assembly (UNGA).
Khaleda Zia went to London for her eye treatment and celebrating Eid-ul-Azha there with her family members.
Earlier on Thursday, the eid was celebrated at different places in Munshiganj, Sylhet, Barisal, Bhola, Jhalakati and Barguna districts in line with the celebration in Saudi Arabia.