Protest spreads, cries for justice getting stronger
With no remarkable progress in the murder case of Comilla college student Sohagi Jahan Tonu, protests are surfacing everywhere.
Starting from protest rallies to "road march"  and road blockades, general students and activists are trying hard to catch the attention of authorities and pursue for justice.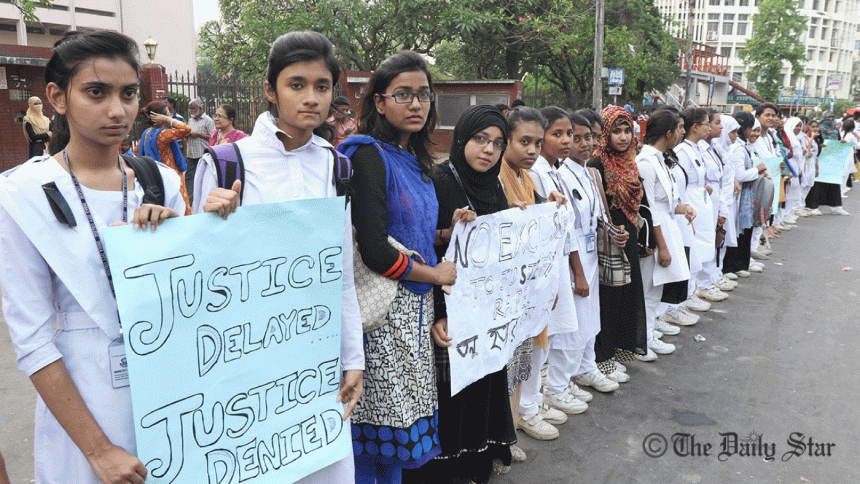 READ MORE: Can justice ever be done to Tonu?
A week into the passing after Tonu's murder, students today blocked a key intersection in Dhaka, brought out separate rallies in parts of the country and activists marched to Comilla in protest.
#তনুর নৃশংস , বর্বর হত্যাকান্ডের বিরুদ্ধে ক্ষোভে ফেটে পড়েছে কুমিল্লা।সংহতি জানিয়ে গণজাগরণ মঞ্চ ঢাকার শাহবাগ প্রজন্ম চত্বর থেকে রোডমার্চ করে এই মুহূর্তে কুমিল্লার কান্দিরপাড়ে। উত্তাল কুমিল্লা !

Posted by Sayeda Sultana Annee on Sunday, March 27, 2016
They all allege that Victoria College student Tonu, a 19-year-old whose body was found in Comilla's Mainamati Cantonment on March 20, was raped before murder.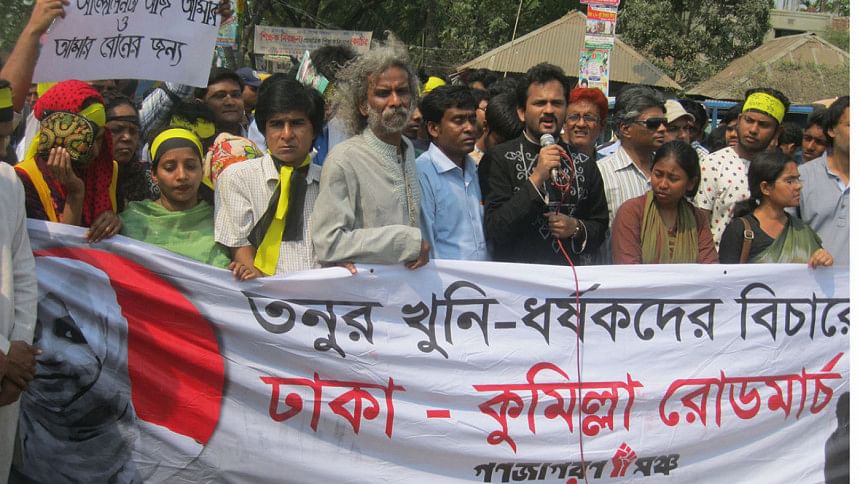 Gonojagoron Mancha activists marched to Comilla from Dhaka around 10:00am. An activist Riazul Alam Bhuiyan told The Daily Star they will pursue until the authorities hunt down the culprits.
Activists of left-leaning student bodies Bangladesh Chhatra Union and Samajtantrik Chhatra Front joined the protest programme. Another organisation, Swapnolok, marched to Uttara from Shahbagh demanding the same, reports Bangla daily Prothom Alo.
In Dhaka, students of privately-run institutions East West University, North South University and Stamford University came out with protest processions demanding immediate arrest of the culprits.
In Chittagong, people from different walks of life took to the streets.
Nearly 10,000 protesters formed human chain that stretched from Chittagong Press Club to the Cheragi Pahar area, our Chittagong University correspondent reported from the spot.
In Comilla, general students blockaded Dhaka-Chittagong highway. They lit fires and blocked the road, halting vehicular movement on the important highway for some time.
সকাল ১১টার পর থেকেই ঢাকা - চট্ট্রগ্রাম মহাসড়ক অবরুদ্ধ। উত্তাল কুমিল্লা।মোট্টশুনি মোড়, কোটবাড়ি রাস্তার মাথা, কুমিল্লা।মিডিয়া নিশ্চুপ। শেয়ার করে নিজেই মিডিয়া হোন।#JusticeForTonu

Posted by Zahid Gogon on Sunday, March 27, 2016
Meanwhile, social media have been hot on this issue as users from majority quarters in Bangladesh voiced out to the cause. Posters have been made and floated in tribute and rage over the incident.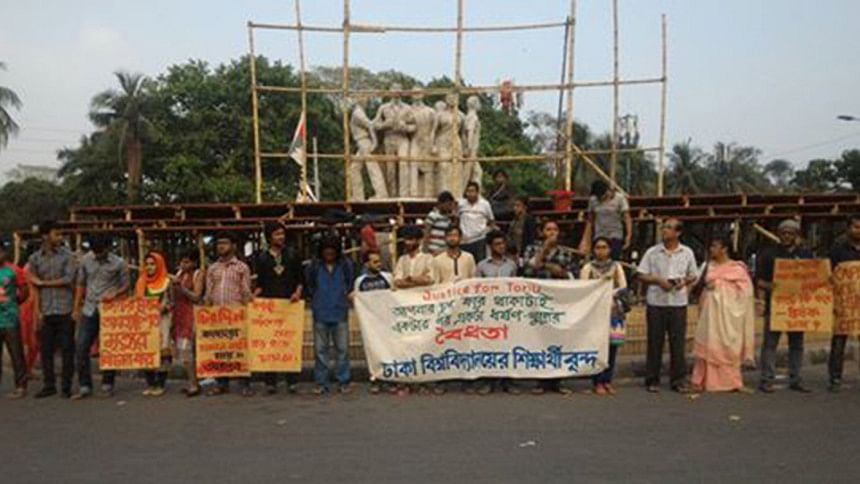 A case has already been filed with Comilla's Kotwali Police Station in this regard accusing unknown assailants, by the victim's father Year Hossain. No one has been arrested yet.
Last Friday, the case was handed over to the Detective Branch.