Risky railway crossing
The busy level crossing in Nilphamari unattended, causing fatalities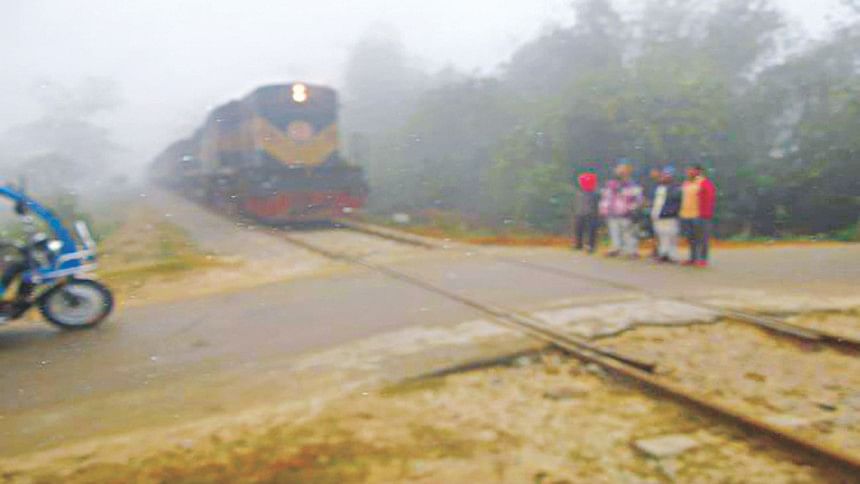 With bustling markets on either side, Dhelapir railway crossing near Saidpur station in Nilphamari is predictably busy. Thousands of people and vehicles cross the tracks there each day. Two signs warn people using the crossing that they do so at their own risk; but there are no boom gates and no guard in attendance. It's alarming to have such rudimentary public safety measures at a location with a history of fatalities.
"Dhelapir, on the eastern side of the crossing is the most crowded market in the district," says the chairman of the local Botlagari union parishad, Al-Helal Chowdhury. "On the western side is the age-old Porarhat market. Inevitably the crossing is well-used."
"The trains travel at high speed and pass through in no time at all," says local cattle trader Joinal Abedin, 55. "We become anxious when we have to drive cattle from one side to the other."
A few weeks ago sexagenarian Tayebuddin was killed while crossing the tracks, by the Khulna-bound Rocket Mail train. It was the latest incident in a pattern of deaths spanning many years. The most serious incident occurred in 2015, when the inter-city Nil Sagor service collided with a police patrol van, killing four police officers and seriously injuring four more.
After that accident, two enquiry committees were formed by the railway and police departments. Recommendations included the installation of a gate and the appointment of a gate man at the crossing. Unfortunately, these measures were never implemented.
According to the Saidpur branch president of the Railway Workers League, Moksedul Momin, insufficient staff numbers are part of the reason no crossing guard was appointed. "Right back in 1985," he says, "the World Bank prescribed a policy, adopted by the then government of Bangladesh, to reduce the number of railway employees. Many were compelled into early retirement, with a golden handshake. Since then, it is not uncommon for busy railway crossings like Dhelapir to be unattended."
The crossing is not only busy with local traffic. Twelve trains pass through daily. Even an optimist would have to admit that the next fatality is just a matter of time.
Botlagari's former union parishad chairman Saidur Rahman says he wrote to the general manager of the railway's west zone, requesting the construction of a rail gate and the appointment of a crossing guard, but never received a response.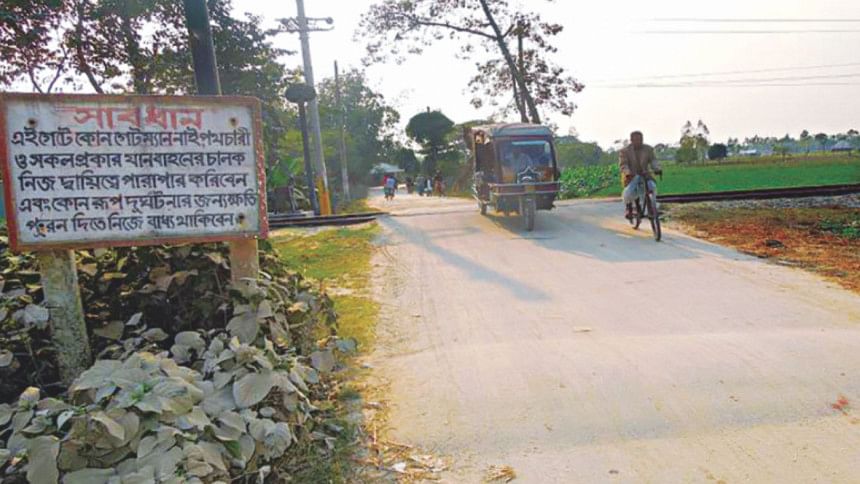 The station master at Saidpur, Alamgir Hossain, meanwhile, says that Dhelapir crossing was constructed by the roads department without the consent of the railway, and is thus an unauthorised crossing point.
Nevertheless according the railway's divisional engineer in Pakshi, Md Asaduzzaman, steps will be taken to improve public safety. "We've detected Dhelapir railway crossing as a place that is susceptible to accidents. Accordingly we plan to install a gate, signal lights and appoint a gate man by June 2018," he says.