Rana Plaza survivor on hunger strike
Demands compensation, jobs, rehabilitation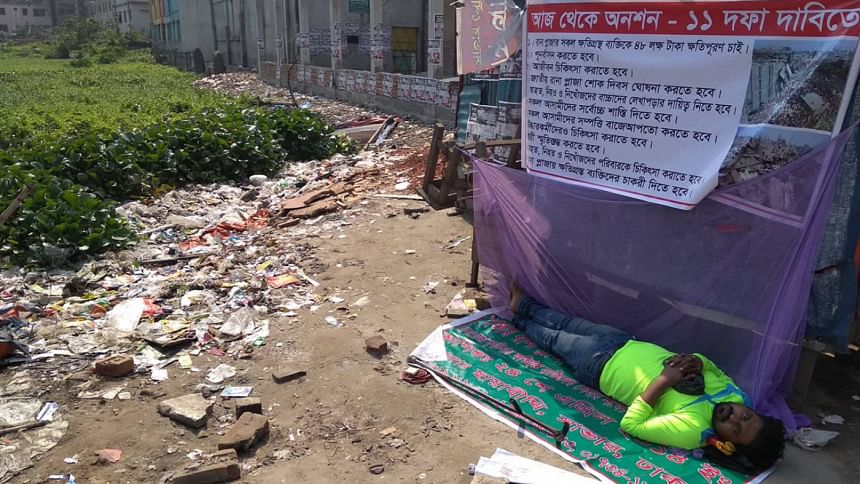 A survivor of the Rana Plaza disaster is continuing a hunger strike for the second consecutive day with an 11-point demand which includes rehabilitation and compensation for those affected.
Mahmudul Hasan Hridoy, an employee who worked on the eighth floor of Rana Plaza, started his hunger strike since yesterday afternoon in front of the now empty plot, where the nine-storey building stood before it collapsed on April 24, 2013, reports our Savar correspondent.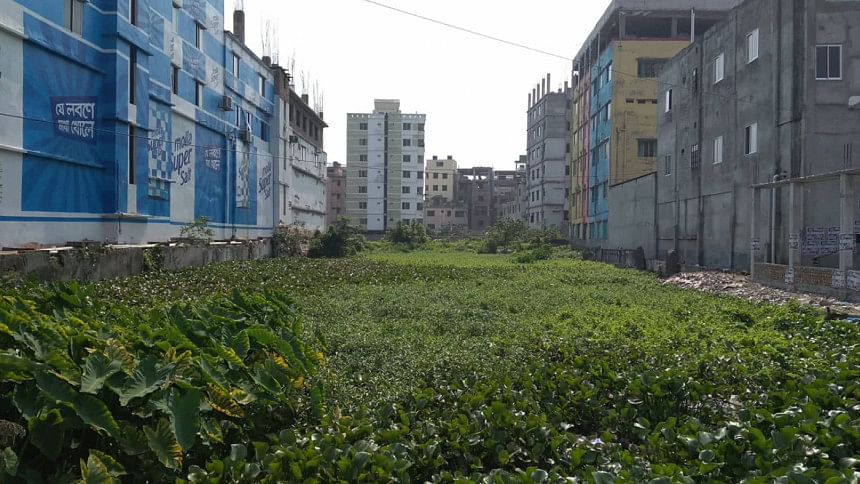 "I will continue my hunger strike until my demands are met," says Hridoy. The 11-point demands include:
-Tk 48 lakh compensation to each of the affected in Rana Plaza incident

-Rehabilitation

-Cover medical expenses for lifetime

-Announce National Mourning Day for Rana Plaza victims

-Bear education costs of the children of those who were injured or were deceased in the incident

-Highest punishment of perpetrators

-Seize the wealth of all the perpetrators

-Provide treatment to rescuers

-Permanent Mausoleum to be built in remembrance of victims

-Family members of the deceased, injured or those missing should get access to free treatment

-Provide jobs to those affected in the Rana Plaza incident
A few trade unions have also pledged their allegiance to the Hridoy.
Hridoy continued the hunger strike last reported at 9:30pm, reports our Savar correspondent from the spot.
Meanwhile, Bangladesh Garments and Industrial Workers Federation (central committee) President Rafiqul Islam Sujon said all of the demands made by the RMG workers is logical and it is the responsibility of the administration to accept those demands.
Hridoy's strike comes just a day before, April 24, the six-year anniversary of the Rana Plaza disaster in which 1,129 workers lost their lives. Thousands more were injured in the rubble.
Besides, survivors and the family members of the Rana Plaza tragedy victims lighted candles at the disaster site in Savar, on the outskirts of Dhaka, this evening.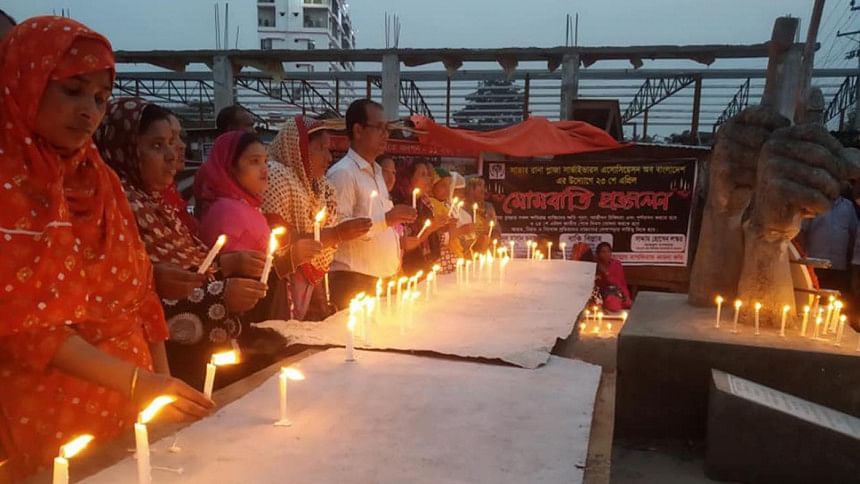 Nearly 500 people including around 10-15 organisation of different garment workers took part in the programme, the eve of the sixth anniversary of the tragedy.