Rajon killing: Prime accused sent to jail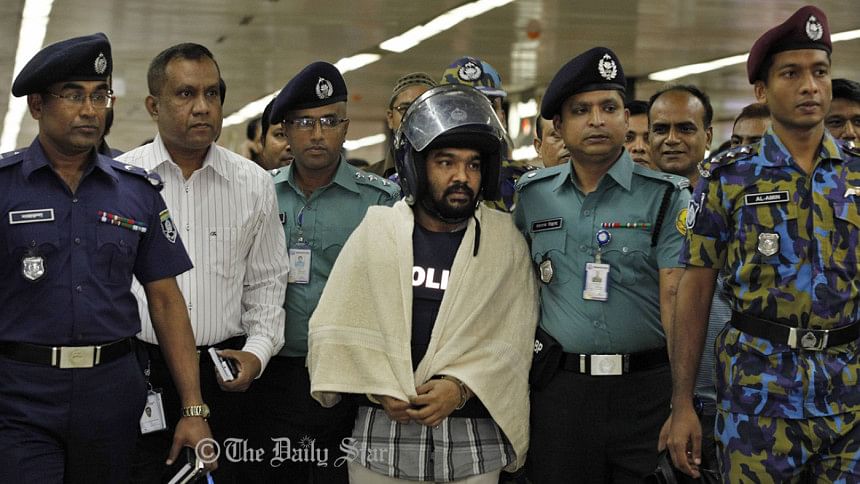 A Sylhet court today sent prime accused Kamrul Islam to jail in connection with the case filed for killing 13-year old Samiul Alam Rajon, a day after he was brought back from Saudi Arabia.
Sylhet Metropolitan Magistrate Anwarul Haque passed the order after Inspector Suranjit Talukdar of Detective Branch, also investigation officer of the case, produced Kamrul before the court around 11:00am, our Moulvibazar correspondent reports quoting the detective.
The court also fixed October 18, for holding the next hearing of the case.
Kamrul was brought back from Saudi Arabia yesterday, three months after he fled Bangladesh.
He landed the Hazrat Shahjalal International Airport under police escort around 3:00pm and he was taken to Sylhet around 10:00pm yesterday.
Kamrul was among the group of brutes who were torturing Rajon in Sylhet on July 8. The boy died of brain haemorrhage; his body bore 64 injury marks.
The victim's father filed a case with Jlalabad police station in which Kamrul was made key accused.
On September 22, a Sylhet court framed charges against 13 people, including Kamrul.
In a video that went viral in the social media, Kamrul in a black T-shirt and lungi was seen hitting 13-year-old Samiul Alam Rajon with a stick in the feet, joints of legs, shoulders and in the head.
Caught in Jeddah by some expatriate Bangladeshis on July 13, Kamrul was handed over to local police. Later, he landed in jail in Riyadh from where he was flown to Dhaka.
THE KILLING OF RAJON
Rajon's "crime", they claimed, was trying to steal a rickshaw van. One of the culprits filmed the torture on a mobile phone and shared it on social media.
The sickening video shook the nation to its core and stirred outcries in the social network and mainstream media.
Tied to a pole, the boy screamed for help, cried for water and begged for his life. But the group showed no mercy. They rather laughed and made fun of the helpless kid.