Raja House a safe haven for herons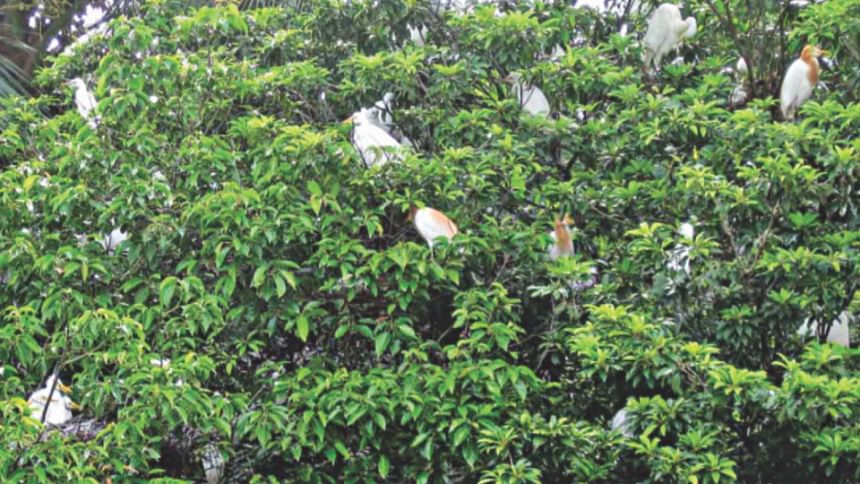 Herons have found a safe haven in Raja House at Sreemangal upazila of the district.
Gulam Mostofa Raja is the owner of Raja House in Motiganj village.
Several species of herons have made the small woods their home, building nests in the trees in the area. The trees also house birds and parrots.
The sight of the birds nesting and gathering food is quite extraordinary, which is why at first glance it seems like a settlement of migratory birds.
Gulam said the heron population in the colony has been growing every year since they started coming there in 1990.
Everyone here likes these heron, and even outsiders do not bother them, he said, adding that a heron sanctuary is good for the ecology.
"It is not possible to have such a place without love for herons," said visitor Sumona Bosak, who came from Dhaka. "The people here are very nice as they allow the herons to live here in safety," said Mohammad Ali and Sajal Rozario, who came from Bogra.
"We are helpless when it comes to natural calamities. But we try to  ensure that the birds do not suffer. It is necessary for everyone to be conscious about protecting nature and biodiversity as a whole," Gulam said.
Muntakim Mostofa, 25, son of Gulam, told this correspondent that the smell compelled him to keep the windows shut, but living amid the tweeting neighbours is also a pleasant experience. He hoped that the authorities would take necessary measures to conserve the garden.