President, PM condole death of Hajj pilgrims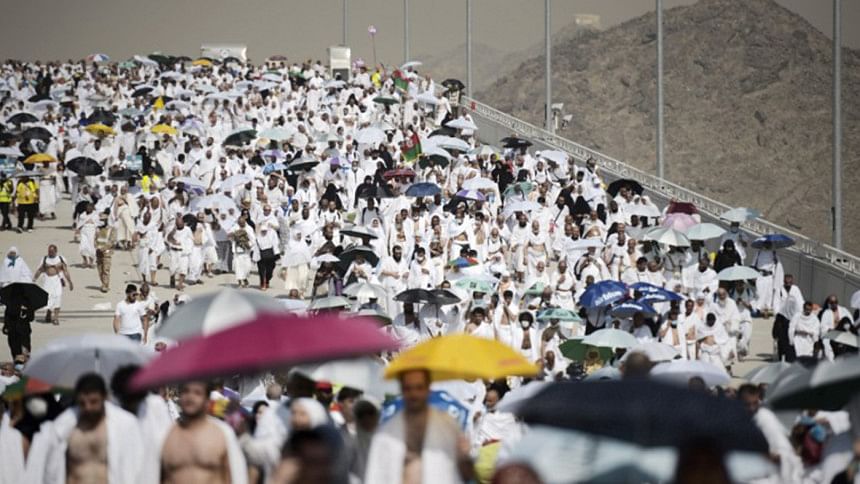 President Abdul Hamid and Prime Minister Sheikh Hasina today sent messages to King Salman bin Abdulaziz Al-Saud of Saudi Arabia expressing deep sorrow and shock at the loss of lives in a stampede at Mina during Hajj.
"I am deeply saddened and shocked learning about the tragic demise of Hajj pilgrims at Mina in a stampede," the president said in the message sent to the custodian of two holy mosques.
"I express my deepest condolences and sympathies to Your Majesty and through you to the bereaved family members and the injured people from different countries," he added.

Also READ: Mina stampede - No info on Bangladeshi casualty yet
"May Almighty Allay grant them the patience and strength to bear this irrevocable loss," the president said in the message.
Meanwhile, the prime minister in her message said, "I am extremely shocked and at tears knowing the tragic death of Hajj pilgrims in a stampede at Mina this morning. Inna lillahi wa inna ilayhi raji'un."
Sheikh Hasina, now in New York to join the 70th UN General Assembly, said: "The people and government of Bangladesh join me in expressing their deepest condolences and heartfelt sympathies to Your Majesty, and through you to the bereaved family members of the victims and the injured people from different countries."
"We pray to Almighty Allah for granting them the accepted Hajj and the highest place in the paradise. May the Almighty Allah grant the victims and their near and dear ones the fortitude and patience to bear this irreparable loss," she said.
At least 717 people taking part in the Hajj pilgrimage have been killed in a stampede near the Islamic holy city of Makka, officials in Saudi Arabia said.
Another 805 people were injured in the incident at Mina, which occurred as two million pilgrims were taking part in the Hajj's last major rite.