PM for Ganges Barrage on Padma under Indo-Bangla venture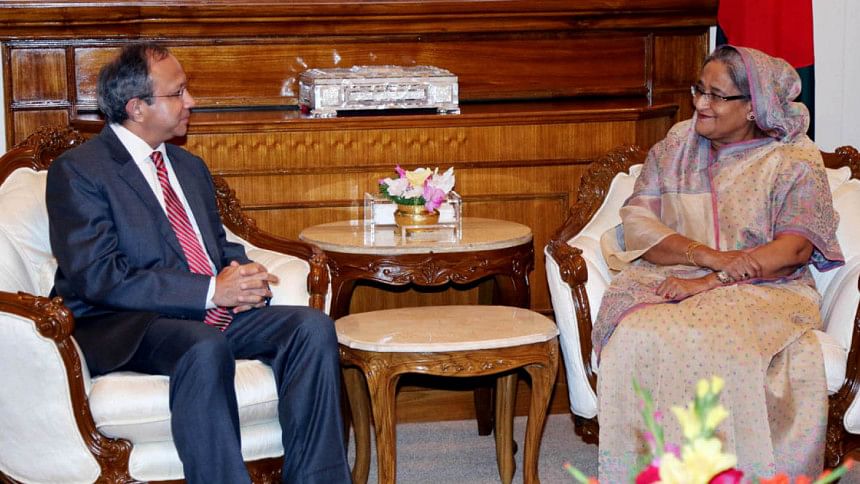 Prime Minister Sheikh Hasina today stressed developing Ganges Barrage on the Padma River in Bangladesh under a joint venture project between Bangladesh and India.
The premier came up with the view when outgoing Indian High Commissioner to Bangladesh Pankaj Saran met her at her office in Dhaka.
After the meeting, PM's Press Secretary Ihsanul Karim briefed reporters.
The government has already completed the feasibility study and design of the proposed 2.1-km long Ganges Barrage Project at Pangsha in Rajbari, some 98km downstream from the Farakka Barrage built in Paschimbanga, India.
The proposed project has a reservoir to augment the flow of water and its equal distribution, in both dry and rainy seasons, over the Ganges dependent area.
The project will meet the demand of Ganges water for agriculture, fisheries, ecosystem and navigation.
About $4 billion is needed to implement the Ganges Barrage Project.
Once the project is implemented, the feasibility study says, agricultural production in the Ganges dependent area will increase while additional paddy production would be about 26 lakh metric tonnes, minimising the loss of paddy significantly.
Additional fish production would be about 2.4 lakh metric tonnes.
Briefing reporters, the press secretary said the premier expressed satisfaction over the smooth implementation of Land Boundary Agreement (LBA) and its protocol on both sides.
She also expressed her confidence that all the remaining steps of the LBA would be completed in time.
Extending thanks to all the members of Indian Parliament for endorsing the LBA unanimously, the Prime Minister said her government is implementing comprehensive development programmes in the former enclaves to ensure civic amenities for their inhabitants.
The Prime Minister's Office is monitoring all the development activities in the former enclaves, she added.
Appreciating Prime Minister Narendra Modi's leadership, Hasina thanked the Indian government for its cooperation with Bangladesh in energy sector. "Now we would like to go to the next step which is sub-regional cooperation," she said.
Referring to India's eagerness on developing Paira and other Deep Sea ports in Bangladesh, the prime minister said her government has taken the due note of India's interest.
About the ongoing discussion between India's Oil Company and Petro
Bangla of Bangladesh over the construction of LPG Terminal and transportation of LPG to Tripura through Bangladesh, Hasina said her government is examining India's proposal.
The Indian high commissioner highly praised Sheikh Hasina's leadership in bolstering the bilateral ties and said an immigration check-post in Fulbari in Kurigram is ready to be opened.
Prime Minister's Adviser Dr Gowher Rizvi and Principal Secretary to the Prime Minister Abul Kalam Azad were present.