Pest attack on Aman paddy
Farmers worry as substandard pesticides flood local markets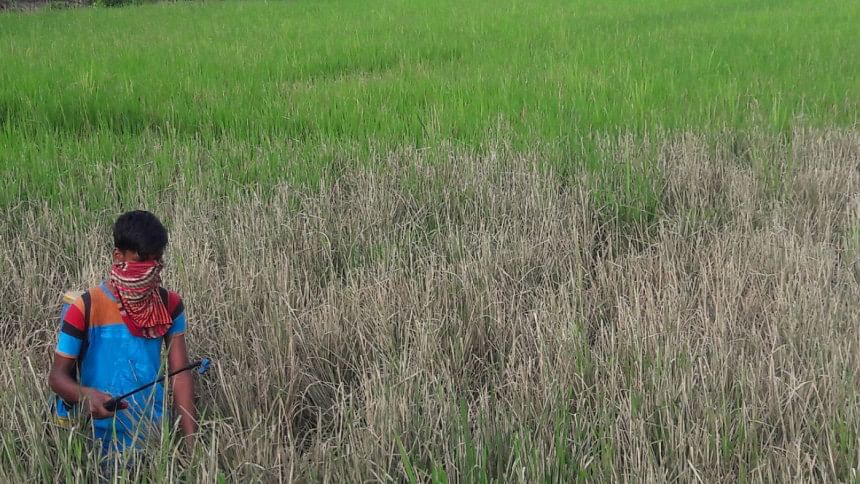 Farmers in the district are worried because they cannot protect their crops from pest attack as the pesticides they are using are substandard and ineffective.
Abdur Rashid, 54, a farmer of Khochabari village in Sadar upazila, said he has cultivated T-Aman on three bighas of leased lands, of which fifty percent has been attacked by pests. "I sprayed pesticides three times in the last ten days but there was no result," he added.
Saidul Islam, 48, of Palashi village in Aditmari upazila, said he cultivated Aman paddy on four bighas, but crops on three bighas have been attacked by pests. "I do not know how I will prevent the attack as the pesticides are not working," he added.
"The leaves of Aman paddy in two of my three bighas are getting reddish. Following the advice of the local agriculture department, I used different medicines but to no avail," said Enamul Haque, 52, of the same village.
"I used medicines after the fields were attacked by different diseases. If I can check the attacks, I hope to get bumper output, but it is uncertain," Delowar Hossain, 55, of Hospitalpara village in the upazila said, adding that the pesticides are ineffective.
Mantaz Ali, a farmer of Palashi village in Aditmari upazila, said most farmers are dependent on pesticides supplied by the sellers, who take advantage of farmers' lack of knowledge and sell substandard pesticides to them.
"The traders earn huge profit by selling substandard pesticides, and the farmers are willing to buy those as they cost less than the standard pesticides," he said, adding that the government should conduct drives against substandard pesticides.
Lutfar Rahman, a pesticide trader at Hajiganj Bazar in the upazila, said he sells pesticides of many companies, but farmers always want to buy the cheapest. "It is true that many pesticide companies are marketing their substandard pesticides in villages," he added.
The district's Department of Agriculture Extension Deputy Director (DD) Bidhubhushon Roy said Aman was cultivated on 82,259 hectares of land in five upazilas of the district this season. Aman plants on around 9,000 hectares were totally damaged due to the recent floods, and affected farmers collected Aman saplings from adjacent districts and planted those on the damaged fields, he added.
Upazila Agriculture Officer Biplob Kumar Mohanto said they are advising the farmers to prevent pest attack by using standard pesticides.
The DD said agriculture officials are visiting the fields and advising the farmers to use proper medicines. "We hope that the attacks will not affect the production," he said, adding that substandard pesticides have flooded the local markets.
Deputy Commissioner Shafiul Arif told this correspondent that they will conduct mobile courts against sellers of substandard pesticides in the markets.