Another PCJSS man shot dead in Bandarban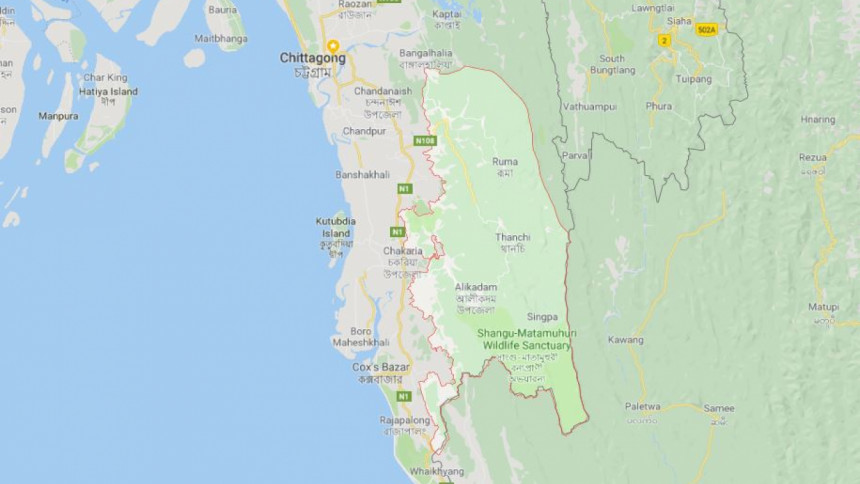 Another supporter of Parbatya Chattogram Jana Sanghati Samity (PCJSS) was shot dead by a group of armed men in Bandarban's Rowangchhari upazila early today.

The deceased was identified as Aung Sing Ching Marma, 38, of remote Thoai Aung Gya Para of the upazilla.

Quoting family members, police said seven to eight armed men entered Aung's house at around 1:30am and picked him up before gunpoint.

Later, locals found Aung's bullet hit body in a remote area which is around one kilometer from his house.

Maching Aung Marma, secretary of PCJSS Rowangchhari upazilla unit, alleged that Mogh Bahini, was involved in the gruesome murder of our supporters. 

"We demand immediate arrest of the criminals who are spoiling the harmony of Bandarban," he said.

Earlier, On May 7, a member of PCJSS was shot dead, while another PCJSS man, Puladon Tongchangya, 40, was abducted from Rajbila union of Bandarban Sadar upazila by Mogh Bahini. Puladon is still traceless.

Only two days later, on May 9, another PCJSS supporter was shot dead by the same group in Bakichhara rubber garden area of the same upazila.

On May 19, a local Awami League (AL) leader's brother was shot dead in Rajbila of Bandarban Sadar upazilla, while a local leader of Jubo League was shot dead in his house in Rajasthali upazila of neighbouring Rangamati district.

On May 25, the body of former vice president of AL's Bandarban town unit Chaw Thowai Mong Marma, 53, was found in a hilly remote area of Kuhalong union in Bandarban Sadar upazila.

Chaw Thowai, also a former commissioner of Ward 5 in Bandarban town, was allegedly abducted from his farmhouse on the night of May 22.

Locals requesting anonymity said Mogh Bahini criminals come their paras with heavy weapons and threaten them not to support PCJSS.

"We have been passing sleepless nights due to threats issued by criminals of Mogh Bahini," said a local of the area who seeks anonymity.

Following the serial murders, panic has spread among the hill people of the region.

 "Some ruling party men have been sheltering the members of Mogh Bahini and using them to harm the locals, especially the PCJSS men, since the December 30 election," said the PCJSS leader.

Detective Branch (DB) of Bandarban police on June 10 arrested two suspected members of Mogh Bahini from Rowangchhari upazila and on May 30, law enforcers arrested three members of Mogh Bahini from Bandarban's Ruma upazila. 

Meanwhile, Kwe Shwe Hla, president of Awami League's (AL) Bandarban unit, filed a general diary with Bandarban Sadar Police Station as his name was circulated in the social media as a sponsor of Mogh Bahini.

Kwe Shwe Hla denied the allegation and said "I never patronize Mogh Bahini" adding "an armed group of PCJSS is behind the killings of our ruling party men in the area.