Nilphamari farmers switch to vegetable farming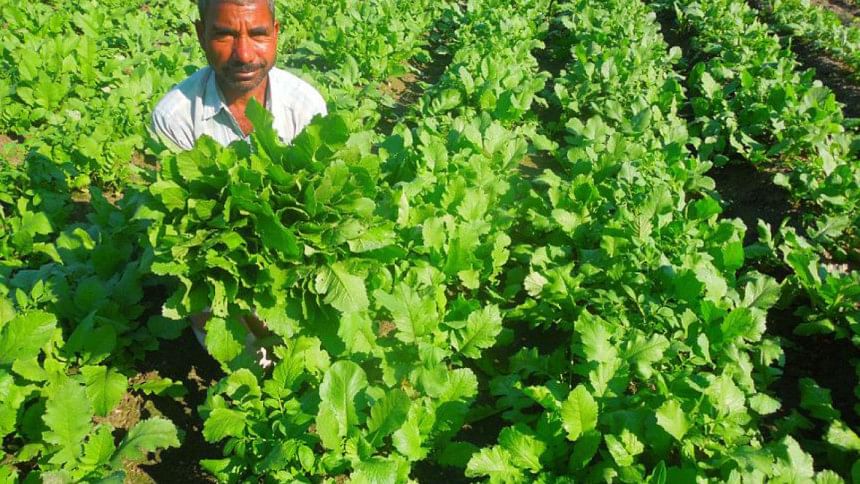 In recent years, vegetable cultivation appears to be more profitable than growing paddy for farmers in the district.
Anwarul Islam, sub-assistant agriculture officer of Department of Agriculture Extension (DAE) in Nilphamari, said in this ongoing Robi season, farmers are cultivating vegetables like potato and cauliflower on 28,414 hectares of land while it was 26,590 hectares last year.
Potato growing area is 22,810 hectares, compared to last year's 21,000 hectares. 
Contrary to upward trend of vegetable cultivation, the area for aman paddy cultivation is gradually declining as it was cultivated on 1,12,108 hectares this year compared to last year's 1,12, 350 hectares, said Anwarul. 
Farmers said they incurred loss in paddy cultivation in the last consecutive years as production cost became high due to increased labour cost and prices of day labourers, fertilizer, pesticide and seedare on the rise while paddy price remains low during harvesting time.
Kishoreganj Upazila Agriculture Officer Enamul Huque said they encourage farmers to go for crop diversification without depending merely on paddy cultivation as it will bring maximum profit for them.
Grower Zillur Rahman of Chawra village in Sadar upazila said last year, he cultivated paddy on five bighas of land by spending Tk 50 thousand and got only 80 maund yield with market price of Tk 500 per maund.
Another farmer Sirajul Islam of Gayabari village in Dimla upazila said paddy plants recently became vulnerable to frequent pest attack, minimising production as leaf blight disease ruined his paddy field last year.
Meanwhile, Motiur Rahman of Tilai Joychandi village in Sadar upazila said by spending Tk 1.80 lakh, he cultivated cauliflower on seven bigahas of land replacing paddy last year and expected to get profit of Tk 3.5 lakh excluding production cost.