Vermicompost gaining popularity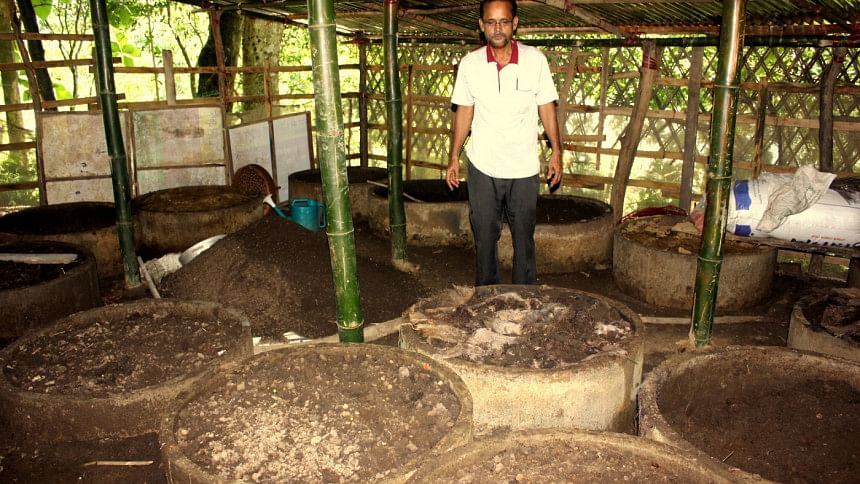 Vermicomposting, the natural process of converting organic wastes into fertilisers using earthworms, is bringing extra income to many farmers in Rangamati.
Besides, producing and using vermicompost in their own cropland, many farmers of the district are earning an extra sum by selling the natural fertiliser.
Farmer Hemo Kumar Chakma of Bodhipur village under Sapchhari union of Rangamati was working in his vermicompost unit when this correspondent visited him a month ago.
"Vermicompost is being sold at Tk 10 to Tk 15 per kilogram at the local market," said Hemo, who makes enough compost to use in his own crop fields and then sell the rest about 80 kg per month along with earthworms at Tk 2 per piece.
Hemo started producing vermicompost three years ago by installing three concrete rings, in which he dumps cow dung and let earthworms feed on it. The excrement from the worm works as soil conditioner.
Farmer Anuching Marma from Vedvedi area in Rangamati Sadar upazila also gained solvency by selling vermicompost.
"I started my vermicompost farm in 2017. I have already earned Tk 80,000 by selling vermicompost in the last two years. I am selling 800 kg of the compost per month from my farm at Tk 15 to Tk 20 per kg and hope to earn Tk one lakh this year," said Anuching, who does vermicomposting in a ditch near this house.
"I collect dung from my own cow and from surrounding areas and leave it on a polythene sheet over the ditch for 15 to 20 days. Then, I add earthworms, bought for Tk 4 to Tk 5 per piece, and cover the mixture with cement bags for 15 days which then becomes ready for use as fertiliser," he described.
Anuching said, it costs about Tk 7 to produce one kilogram of vermicompost whilst the cost of one kilogram of chemical fertiliser in the local market is Tk 40 to Tk 50.
Farmer Nigiredhan Chakma from Sapchhari village of the Sadar upazila said, one bigha (33 decimals) of cropland requires about five kilograms of chemical fertiliser but twice as much vermicompost.
Yet, Shukro Kumar Chakma of the same village prefers using the latter as it is cheaper, and he believes that chemical fertilisers reduce soil fertility over the years.
Not just farmers, Sub-Assistant Agriculture Officer in Rangamati Muhammad Harun is also making extra money by producing and selling vermicompost after office hours.
He sells 5,000 kg of the compost per year for Tk 75, 000 while his total production cost per year stands at Tk 10,000 to Tk 15,000.
"Vermicompost has a high demand among the local farmers as it is better than chemical fertilisers," he said.
According to the Rangamati Department of Agriculture Extension (DAE), over three hundred people in 10 upazilas of the district are producing vermicompost fertiliser to use in their cropland as well to sale it.
Rangamati DAE Deputy Director Paban Kumar Chakma said since its introduction in the district in 2015, vermicomposting has been gaining popularity among the farmers and the dependence on chemical fertiliser is decreasing.
The natural fertiliser is cheaper and environment friendly, Paban said, adding that DAE is providing field level training to farmers to encourage the use of vermicompost.