Two Rana Plaza victims get houses after 8 years of the tragedy
Dinajpur DC virtually inaugurates the dwellings financed by Brac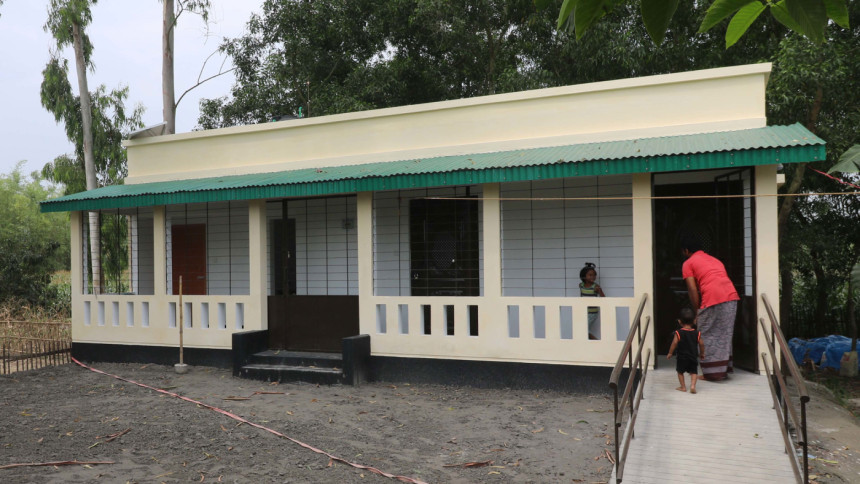 Two victims of the Rana Plaza tragedy, who were maimed for life in the country's largest industrial disaster in Dhaka's Savar eight years ago, have got brick-built houses at their villages in Dinajpur.
Brac, the largest NGO, has financed both the houses.
Rebeka Sultana and Raihan Kabir were handed over the houses on Saturday.
Khaled Mohammad Zaki, deputy commissioner in Dinajpur, inaugurated the houses virtually from his office on Saturday morning. High officials of Brac's Dhaka office also joined the session while the officials in Dinajpur were also present at the inaugural session began at around 12.00 pm through Zoom app.
The two houses located in Barai of PhulbariUpazila and Bisainathpur village in GhoraghatUpazila of Dinajpur have been built with a cost of Tk 13,19,000.
This correspondent visited the houses recently.
Remembering the tragic day, Rebeka Sultana said, like others, she also joined her work at Rana Plaza with her other six siblings and mother. The building had collapsed with a loud noise, she remembered. She had been rescued alive after two days.
After regaining consciousness, the woman found her without both legs, which were cut off under her waist. After a year of the tragedy, which was taken place on April 24 in 2013, she had been released from the hospital.
All her six siblings and mother died in the accident.
She returned to her home at Chairmanpara in PhulbariUpazila with Mostafizur Rahman, her husband. Over the years, there have been many ups and downs in her life. She became mother of two children in the meantime.
The clay houses were so tiny to live there. All the four members of her family had been living in the tiny single room filled with household stuff.
"It was quite difficult to dwell in the house," she said.
Finally, Brac came forward, she also said.
"Brac has always supported my family and me whenever needed," she said.
Recently, Rebeka bought 5-decimal of land at Barai village, which is around a kilometer away from her present residence. Brac agreed to build a house there at theirown cost. SM Alamgir Hossain, regional Manager of Brac in Dinajpur, said they built the two-room house spending Tk 7.21 lakh.
Besides the two rooms, the house also has a toilet and a kitchen with a large corridor.
There has a ramp, too, for Rebeka.
Rebeka said she would shift to the new house within a couple of days.
"I never thought that I would get such a beautiful house in my life," said Rebeka.
On the other hand, Raihan Kabir, who also lost a leg in the Rana Plaza tragedy, got a new house on Saturday.
SM Alamgir Hossain, the Regional Manager of Brac in Dinajpur, said that Tk 5.98 lakh has been spent building Raihan's house.
"I remained jobless for many years," said Raihan adding that he started generating income when Brac gave him a battery-run 3-wheeler. Besides, an artificial leg was also set up on his amputated leg.