Tourists suffer as Kuakata beach turns 'boat landing station'
Separate spot for watercraft demanded as visitors can't walk and bathe with ease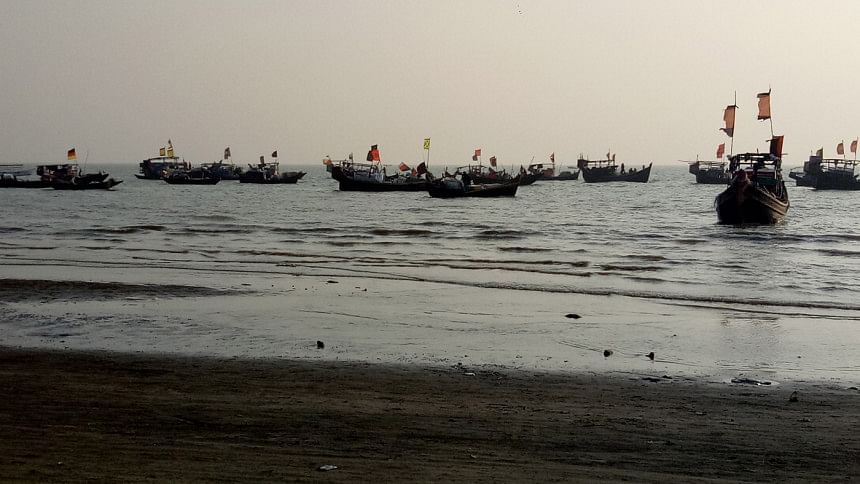 Trawlers, speedboats and other small watercrafts are often kept anchored haphazardly in Kuakata sea beach, much to the nuisance for a large number of tourists in the picturesque area.
Tourists coming from different areas of the country as well as from abroad often walk on the beach and most of them like to take bath in the sea.
But they face disturbance as numerous trawlers, water bikes and speedboats, some of them meant for arranging rides for tourists, are anchored in the water beside the beach. Many small fishing boats are also kept on the beach where tourists are supposed to walk freely.
The situation worsens during the tourism season in winter when larger number of fishermen also go for fishing in the sea.
The unscrupulous anchoring of boats affects around a two-kilometre area on both sides of the Zero Point at Kuakata, said locals and visitors.
A section of traders keep boats in the water to carry tourists from Kuakata to Fatrarban, a reserve forest about 10 km to the west.
Rakibul Hasan, a tourist from Khulna, said he with his five-member family came to enjoy natural beauty of the Kuakata beach but they are feel disturbed due to keeping of a large number of boats there.
"We cannot walk on the beach and take bath in the water smoothly. Natural beauty of the spot is also affected due to scattering of the boats," he said.
"Sea water is polluted by fuel waste falling from these boats. Wastes from fishing boats including pieces of fishing nets also lie on the beach," said Sabiha Muntasir of Faridpur.
The authorities concerned should arrange a separate station for anchoring of these water vehicles, keeping in view the interest of tourists, said Kamal Maruf, a tourist from Dhaka.
Kalapara Upazila Nirbahi Officer Md Munibur Rahman, also member secretary of Kuakata beach management committee, said, "We have already asked the tourist police to take necessary steps in this regard. We will take required measures to keep the beach neat and clean."