The cost of greed
Boro fields submerged as drainage hampered, following earth-filling of tributary by unscrupulous people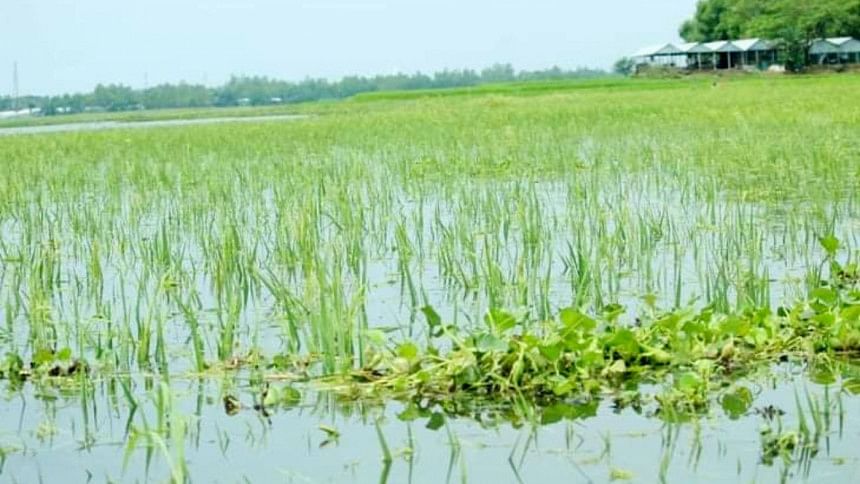 Boro paddy on at least one thousand acres of lands in different areas of Tangail's Ghatail upazila has submerged under rainwater amid waterlogging caused due to filling up of a tributary locally called Goradaha Khal.
The affected croplands are in the low lying areas beside Nedar, Chapra and Borga beels (large water bodies) at Dhalapara and Rasulpur unions, locals said.
Goradaha Khal comes out from Nedar Beel, a large water body in Dhalapara area in Ghatail upazila, and falls into the Bonshai river in adjacent Sakhipur upazila through two other water bodies -- Chapara and Borga beels.
Local influential people and land owners beside the tributary have already filled up the water body at several points for different purposes during the last few years, said Sabuj Sarkar Sourav, a green activist in Ghatail.
As a result, the narrowed down tributary is unable to pass water that is collected in the water bodies due to onrush of water from the hilly lands during the rainy season, he said.  
Farmer Harez Miah of Kathalia village under Dhalapara union said standing Boro paddy of his three bighas of land beside Nedar beel went under water due to the rain for two days.
"Now I am worried, thinking about how to feed my family," Harez questioned.
Schoolteacher Rafiqul Islam of the same village said Boro paddy of several other farmers in the area also went under water.
"The important water body lost its ability to pass water after greedy people filled it up at different places. And so, paddy fields in the low lying areas beside the water bodies submerge after a moderate rain," he said.
"Crops get damaged due to waterlogging every year as the canal has been filled up. The authorities concerned should take immediate steps for re-excavating the canal to solve the waterlogging problem," said Abdullah Al Masud of Boromedhar village.
Contacted, Abdul Matin Biswas, upazila agriculture officer in Ghatail, admitted that paddy is damaged due to the waterlogging affected by filling up of the Goradaha Khal.
"Earlier we had sent proposal to the authorities concerned to re-excavate the important water body. We have also raised the matter at the development coordination committee meeting of upazila parishad today [Thursday]," he added.