Swelling Jamuna devours croplands, houses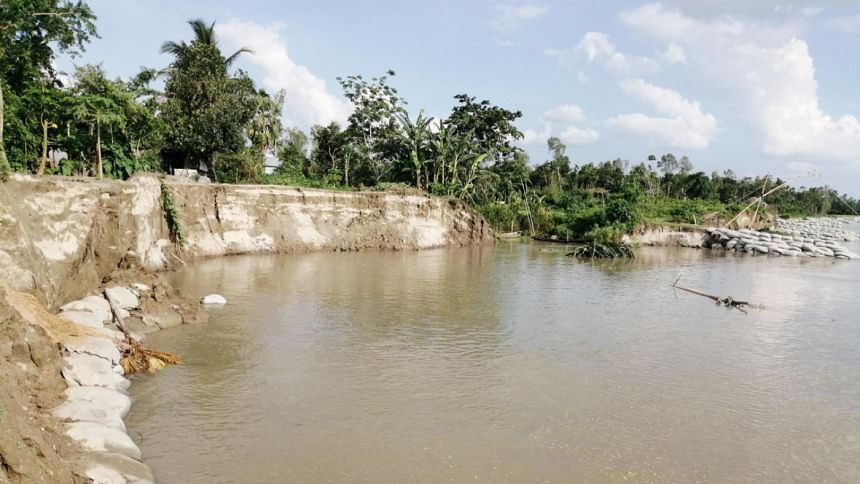 The Jamuna devoured a number of dwelling houses and vast tracts of croplands in Mahmudnagar union of Tangail Sadar upazila during the last few days as the river's water level saw a rise due to onrush of water from upstream. 
The worst affected villages are Kukuria, Maijhail, Keshob Maijhail, Sona Maijhail, Barbaria, Chala Bakla, and Baniapara.
Karim Sheikh, Julhash Miah, Abdul Jalil, Abu Sayeed, Sirajul Islam, Kasir Uddin Mondol, Razzak Pramanik, Abdul Khalek, Azmat Ali, Arman Hossain, Abdul Mannan, Jinnat Sarkar, Abdus Samad and Raham Ali are some of the affected people who have shifted their houses and cattle to other places.
"The river devoured my 16 bighas of land and I have already shifted my dwelling house to a safer place in bazaar area," said Karim Sheikh of Kukuria village.
Abu Sayeed of the same village said he has already lost his house as well as croplands due to the erosion and so, he built a new house at Karatia union.
At least 500 riverside families of the villages have been passing days amid fear of erosion, locals said.
The Water Development Board has been dumping geo-bags in the affected areas to check the erosion, but it is not sufficient against the need, they said.
Over 100 dwelling houses and vast tracks of croplands at the villages were devoured by the river in the last one and a half months, said Mazedur Rahman Talukder, chairman of Mahmudnagar union parishad (UP).
During the last three years, over 1000 families of the villages shifted their houses from the riverside while vast tracks of croplands, two high schools, four primary schools, a mosque, madrasa, and other structures were devoured by the river, he said.
Several hundred families in 7 No ward of the union lost all their landed properties to the river, the UP chairman said.
The local people demanded construction of a four-kilometre-long embankment from the upstream of the erosion affected Kukuria village to save the union from the dreadful erosion every year, he said.
Md Sirajul Islam, executive engineer of Water Development Board in Tangail, told The Daily Star that they have already dumped 36,000 geo-bags in 12 spurs since June 17 as an emergency step to check the erosion in the area. The flow has already moved to the west after dumping of the geo-bags, he said.
"A project is underway for conducting protection works in a 22-kilometre area along the east bank of the river in Tangail as part of a mega project to check the erosion," he added.