Students touch up Payra with paint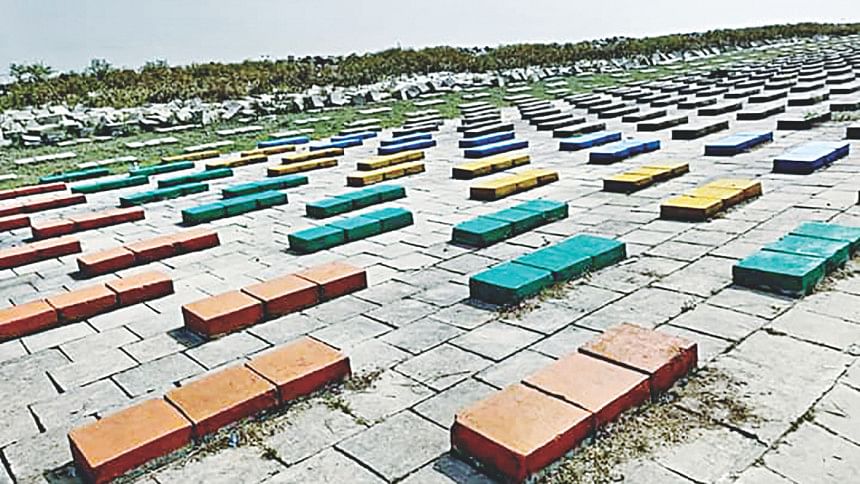 When students of their age usually spend their weekend playing games or hanging out with friends or family, twelve students in Barguna town made it their mission to use their spare time to bring colour in people's lives.
They have been doing so every Friday by literally adding colours to concrete blocks on the embankment of the Payra river in Paler Baliatoli area, thirty kilometres away from their home town.
Inch by inch, the youngsters are covering the dull concrete blocks of the two-kilometre-long embankment with blue, yellow, green and red paints in a specific pattern, giving a lively tone to the river bank.
One of them is Fehat Fakhrul Ishti, an eleventh grader at Barguna Govt College.
"At first my family was reluctant to allow me to go to the river bank. But after seeing how beautiful the river bank has turned out to be, they said they were proud of me," Fehat said smiling.
Barguna Polytechnic Institute student Kazi Inshiak Anam said, "I usually play games on cell phone or watch TV when I'm at home on Fridays. My parents were supportive of me when I asked for their permission to do something different."
Every Friday morning, the students head out to the river bank with paints and paint brushes provided by Arif Khan, who started running several businesses in the town after finishing his education in the UK.
Arif also founded voluntary organisation 'Sabuj Barguna' that plants tress alongside roads and at different institutions in the town.  
Before painting a concrete block, they have to first scrub off the moss from the surface and wipe off the dirt, Arif said.
After working there on three different days, they painted a stretch of about seven hundred metres of the embankment and planted sixty banyan trees along the embankment.
"Since all the youngsters are volunteers and students of schools and colleges, we will work only on Fridays," and the way the work is going on, paintwork on the entire embankment might be finished in a short time, he also said.
"We are doing it to convey a message to all that many things around us could be beautified, only if we paid a little attention to those. We wanted to draw the attention of the local administration on such spots in Barguna district, Arif said, adding that if the administration sincerely intends to, many places in Barguna can be turned into nice tourist attractions.
Local resident Shah Alam said it was unimaginable that a place like that could wear such a colourful look. The villagers are thankful to the students who decorated a part of their village that is now drawing many visitors.
Barguna Deputy Commissioner Mustain Billah said being inspired by the beautification work of the students, the district administration has decided to take over and complete the remainder of the paintwork of the embankment with government funding and a committee was formed for the development of the place.
Also, he has already given directives to install five solar lamps along the beautified part of the embankment, he added.