Sharp rise in deaths by lightning strikes; 126 killed in May-June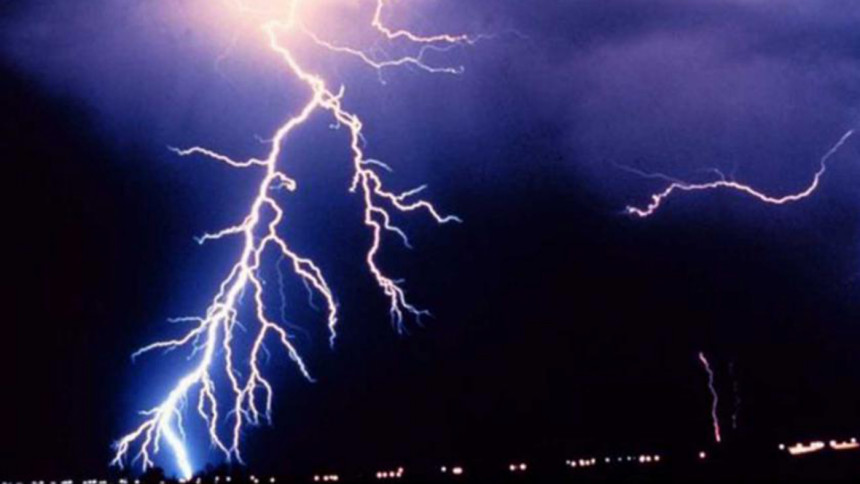 At least 126 people were killed by lightning strikes across the country in May and June this year, according to data compiled by a non-government organisation.
'Save the Society and Thunderstorm Awareness Forum' said it gathered the data from at least 10 local and national newspapers, some online portals and televisions.
The victims include 21 women, seven children and 98 men, the organisation said in a media statement on Saturday.
Most of them were killed while fishing or bringing cattle back home from the field. Some of the victims died while sleeping in houses made of corrugated tin-sheet, and standing under trees.
Fifty-three people were also injured in lightning strikes during this period.
Sixteen of the deaths were reported in Kishoreganj, three in Habiganj, 10 in Rajshahi, nine in Chapainawabganj, six in Pabna, seven in Dinajpur, four in Nilphamari, four each in Jamalpur and Sherpur, six in Naogaon, five in Sirajganj, three in Moulvibazar, four in Khulna, 11 in Satkhira, and four were killed in Tangail.
The organisation highlighted some reasons for the increase in lightning strikes such as climate change, decreasing number of tall trees, installation of a large number of mobile phone towers, and global warming.
It said a rising temperature will also lead to a higher number of lightning strikes.
What to do when lightning strikes
Contrary to popular belief, lightning can strike the same place more than once. The common advice is to remain indoors and find a safe and enclosed shelter when thunder roars.
When dark clouds gather, people should avoid staying in open space or rooftops. People are advised not to stand beside windows.
If there is no available shelter, then people should crouch low, with as little of the body touching the ground as possible. Lightning causes electric currents along the top of the ground that can be deadly over 100 feet away, according to Centers for Disease Control and Prevention.
The CDC suggests staying away from concrete floors or walls as lightning can travel through any metal wires or bars in concrete walls or flooring.
One should remember that being indoors does not guarantee protection from lightning. In fact, about one-third of lightning strike injuries occur indoors, the CDC said.
Also, remember that being in a car is not as safe as being inside a building but it is a safer than staying in the open.
Lightning can travel through electrical systems and radio and television reception systems and hence, avoiding all types of electronic equipment is advised.
Lightning can travel through plumbing, too, and it is unsafe to stay in pond or water bodies while thunderbolt occurs.
'Save the Society and Thunderstorm Awareness Forum' also suggests to plant palm trees or other tall ones to reduce the casualties and damage.
And if anyone is struck by lightning, the person should be treated like an electric shock victim.