Shajahan Khan files report to discipline transport sector
Shajahan Khan's committee places report to discipline transport sector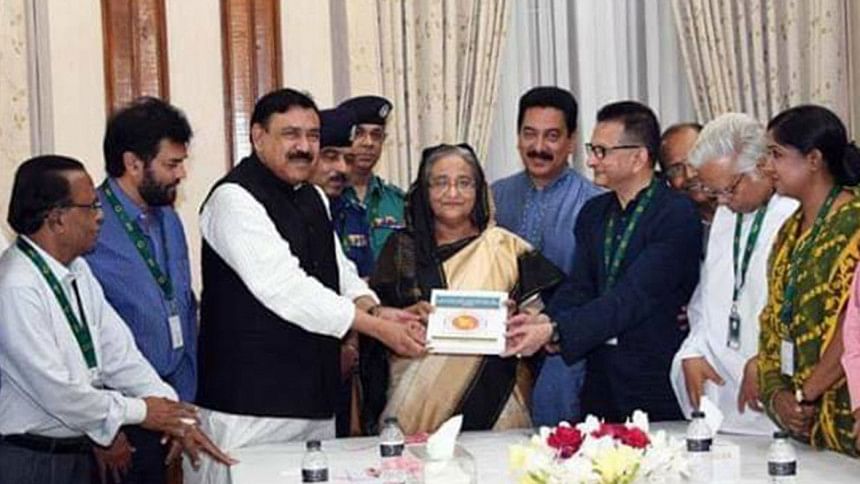 A government-formed body has placed its recommendations to Prime Minister Sheikh Hasina to bring discipline in the transport sector and curb road crashes.
The body, led by former minister Shajahan Khan, a transport leader who drew flak in the past for harbouring anomaly in this sector and whose appointment in this committee sparked hot debate in the parliament, today handed over a 111-point recommendation.
What the report shows, many of the recommendations are already covered in the existing laws, guidelines and reports of other committees on this issue.
The list of recommendations was handed over to Prime Minister Sheikh Hasina at her Gono Bhaban residence, Kazi Md Saifun Newaz, a member of the committee, told The Daily Star.
During their meeting, PM Hasina talked about different issues on road safety and put emphasis on training of drivers and raising awareness among people about the road safety, said Saifun, an assistant professor of Buet's Accident Research Institute.
The committee in its report specified which authority will implement which recommendations. It also recommended for setting up one or more taskforces to oversee the implementation of the recommendations by setting up three deadlines.
The committee set December 2019 as deadline for taking some immediate steps in this regard while 2019 to 2021 as deadline for short term and 2019 to 2024 as long-term initiatives.
WHAT IS IN THE REPORT
The body held several meetings and prepared a draft report with 111-point recommendation, including formation of a road safety authority under the prime minister's supervision.
The authority would draw up plans in coordination with the agencies concerned, monitor the agencies' work as well as identify the accident-prone zones and come up with solutions.
The committee's recommendations include allocating funds for road development projects, implementing franchise system for public transport, setting limit of all commercial vehicles' economic lifeline, keeping first aid boxes in all long haul buses, and producing female drivers in govt and non-govt organisations.
The committee, in its last meeting on April 3, decided to take opinion from people before finalising their report and uploaded their draft report to the website of Bangladesh Road Transport Authority (BRTA).
People were asked to give opinion within April 25.
Asked whether they have considered people opinion, Saifun Newaz said they have incorporated "people's opinion" into their 111-point recommendations.