Seedless guava, a ray of hope for hill farmers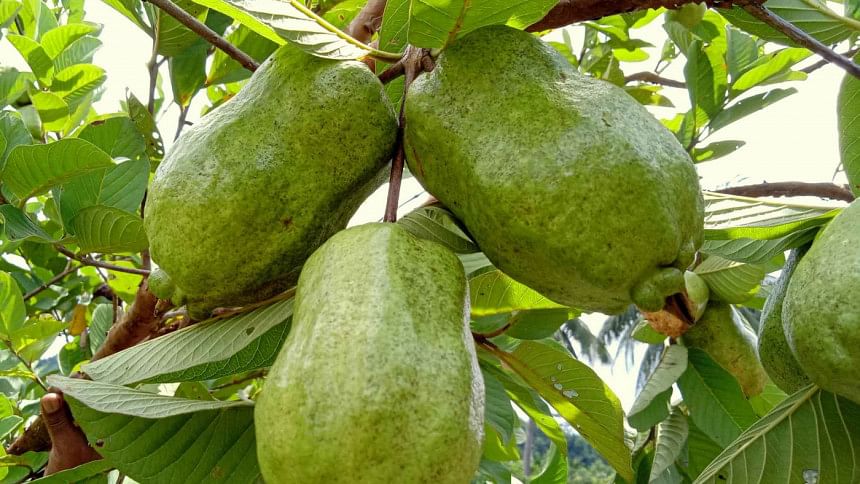 Seedless guava, a novel species in the country, will hit the market in the next few years alongside the prevalent species of guava, giving farmers a hope for bounty. It is much tastier than other traditional guavas in the country.
Agriculturists think that this seedless guava market will have more demand than other guavas.
According to the agriculturists, the guava variety was invented at Raikhali Hill Agricultural Research Institute in Kaptai upazila of Rangamati.
During a recent visit to the institute, it was seen that ripe and raw seedless guavas were hanging from the trees.
According to an official of the institute, this variety was registered by the National Seed Board in 2017. It is developed by Bangladesh Agricultural Research Institute (BARI). The fruit is completely seedless.
He added that most fruits are harvested from September to December. The tree has shrubs and abundant green leaves.
The shape of the fruit is elongated, the shell is white and it is sweet to eat and crispy. It is high yielding and off-season guava variety. Flowers come in June. The size of the fruit is 7.14cm to 10.14cm. The average weight of the fruit is 264 grams. The invented variety has yellowish green skin that is very tasty to eat. The fruit can be stored at normal temperature for eight to ten days.
New varieties of seedless guava have been developed in the last seven years of research. This new variety of guava has been named Bari Peyara-4.
Meanwhile, Bangladesh Agricultural Research Institute in Gazipur is conducting a massive campaign on the new variety of guava.
Md Altaf Hossain, chief scientific officer of Raikhali Hill Agricultural Research Institute, said Bari Peyara-4 is completely seedless. It is large in size, disease and insect tolerant and a non-seasonal fruit. The fruit is available almost all year round. The high yielding fruit is very tasty. In September, when other fruits, including guava, are not available in the country, the harvesting of seedless guava begins.
The newly invented variety is suitable for cultivation all over the country, including hill areas, said Altaf.
Paban Kumar Chakma, deputy director of the Department of Agricultural Extension in Rangamati, said the farmers would benefit a lot by producing seedless guavas.
Hemo Kumar Chakma, a farmer from Sapchhari area of Rangamati, said his garden has a variety of fruit trees. However, this seedless guava is not there yet. Fruit growers like him hope they will immensely be benefited if they can plant it.
Ananta Chakma, another gardener in Chowdhurychhara area of Naniyarchar upazila, said he has heard a lot about this seedless guava, but this sapling is not available in the market yet.
However, the agriculture officers have assured him that the saplings of this tree will be available from next year, he said.