River Erosion
School lost into Padma in four hours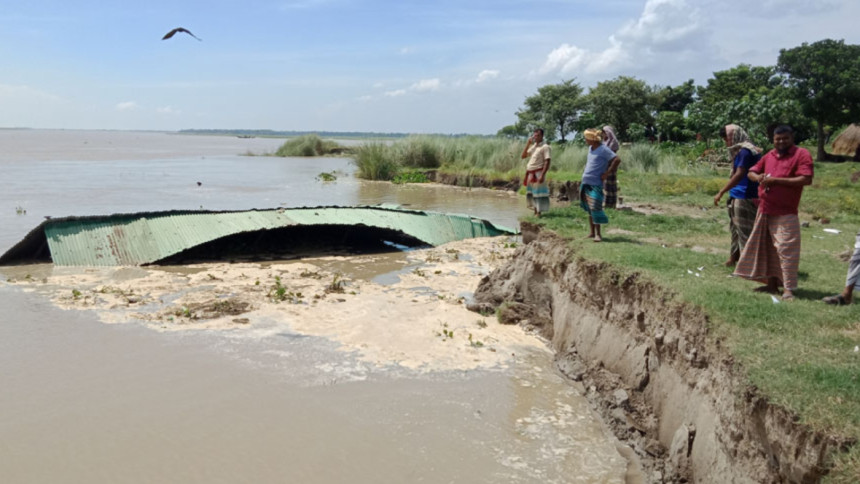 The lone primary school of Char Madhupur village in Pabna Sadar upazila disappeared into the Padma within a matter of four hours as the river suddenly turned violent on Thursday midnight and started to erode land early Friday.
The river devoured the entire one acre land of the school compound along with its tin-roof concrete building, the playground, and the Shahid Minar.
"There is no trace of the school now," said Rafikul Islam Bishwas, vice-president of the managing committee of Char Madhupur Government Primary School, the only education institution in the village, which was built in 2010 at a cost of Tk 14.4 lakh.
"The river was calm until Thursday night, but it started roaring at midnight. Within four hours from 6:00am, the school and its surrounding homes and croplands were gone."
Until Saturday, 25 to 30 homesteads went into the river, he said.
The school headmaster, Abdul Karim, said, "The river was about 300 feet away from the school but the intensity of erosion increased suddenly, devouring the entire school.
"We could save some important official papers and a few chairs, tables, and benches with the help of locals and the students when the school was slowly disappearing into the river. We are worried about the children's education."
As the erosion continued to claim more land, more than a hundred villagers migrated from the river side and took shelter in open spaces around the char.
About 3,000 people live in the village, said Najir Uddin Bishwas, a former headmaster of the school and a resident of the village. "The villagers face the threat of erosion as no steps were taken to shore up the bank," he alleged.
He demanded immediate steps to protect the river bank and save the village.
Meanwhile, Pabna Sadar Upazila Nirbahi Officer Joynal Abedin said that as the village is not located in the mainland, it is not possible to start the bank protection work immediately. "We are giving dry food to the affected villagers and making a list of them for rehabilitation."
The UNO said the school, which has around 150 students, would be rebuilt soon so that the children are not deprived of education.