Sahab, a forgotten fighter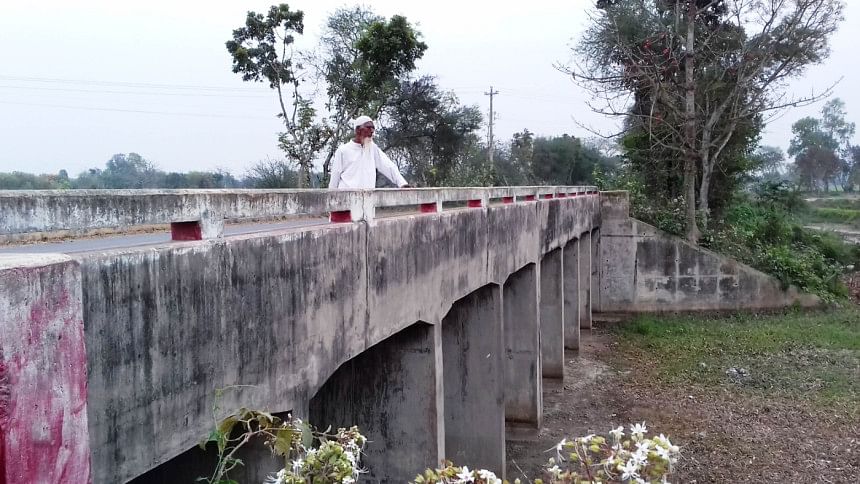 On a spring afternoon a few days ago, an old man, standing beside a tree older than him, started sharing vignettes of the Liberation War, when the country was resisting one of the worst genocides of the world 49 years ago. 
The man, SM Sahab Uddin, a valiant freedom fighter (FF) hailing from Pabna's Sujanagar, is yet to get official recognition nor government facilities meant for the FFs.
In the twilight years of life, he is now struggling to maintain the family, alongside bearing the treatment cost of his mentally challenged son and daughter.
In early April 1971, Pakistani army on four launches came to Nagarbari ghat. Equipped mostly with local weapons, Sahab along with other freedom loving people tried to resist the enemy but retreated in the face of heavy bombardment.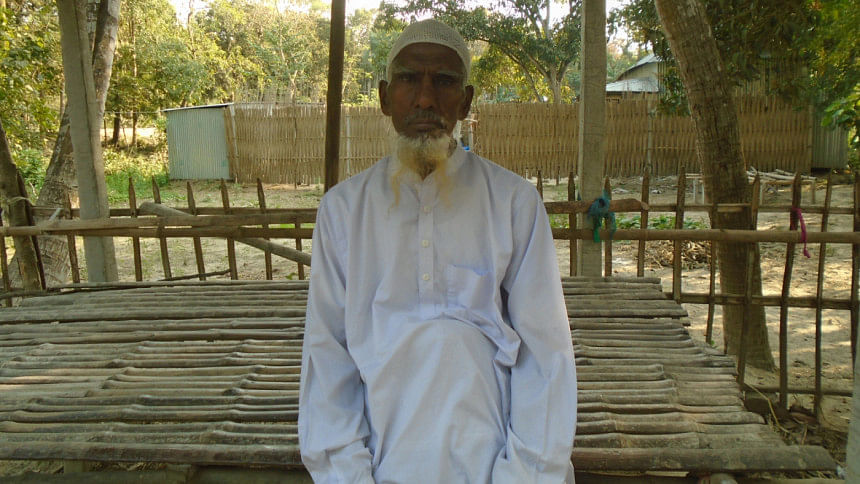 Later a group of 20/22 youths, including Sahab, took training from Abdus Samad, local chief of Mujib Bahini in Sujanagar, and joined his company as guerrilla fighters.
Sahab took part in the operation on the midnight of December 5, when Sholabaria Bridge beside Pabna-Nagarbari highway in Sujanagar was blown up to snap road communication for Pakistani army, said Samad.
"Around 50 Pakistani armoured vehicles were moving forward Sujangar Police Station on the night of December 12. We took position in Mothurapur area and exchanged fires with the enemy for four days," Sahab said.
"In early morning of December 17, we launched a heavy attack on the police station and forced the Pakistani army to flee," he said.   
In 1973, Sahab built a school at Ahmedpur with the help of Samad and the then lawmaker Tofiz Uddin and named it Shaheed Saronika Bohumukhi High School in honour of the Liberation War martyrs, from where he retired in 2010 as an assistant teacher. 
All of the retirement money was spent on the treatment of their mentally challenged son and daughter, said Sahab's wife Aleya Begum, adding that her husband is now struggling to run the family as a marginal farmer.
"Of my three other sons, one is a tailor and another works as a school peon while the last one has been seeking job for the last four years after graduation from Sylhet Engineering College," Aleya said, adding that her elder daughter got married.
"In 2009, we submitted a prayer to Jatiya Muktijoddha Council through post office to enlist Sahab as a freedom fighter but we were later informed that the authorities did not accept the application on the grounds that due process was not followed," she said.
Dr Mohi Uddin, chief scientific officer of Bangladesh Agriculture Research Institute, said, "Sahab is one of my favourite teachers who has great contribution in building my career but it is very sad that even 49 years after independence, the war hero is yet to be recognised as a freedom fighter."