Reporter assaulted in Habiganj for reporting irregularity in relief distribution
Nabiganj UNO confirms incident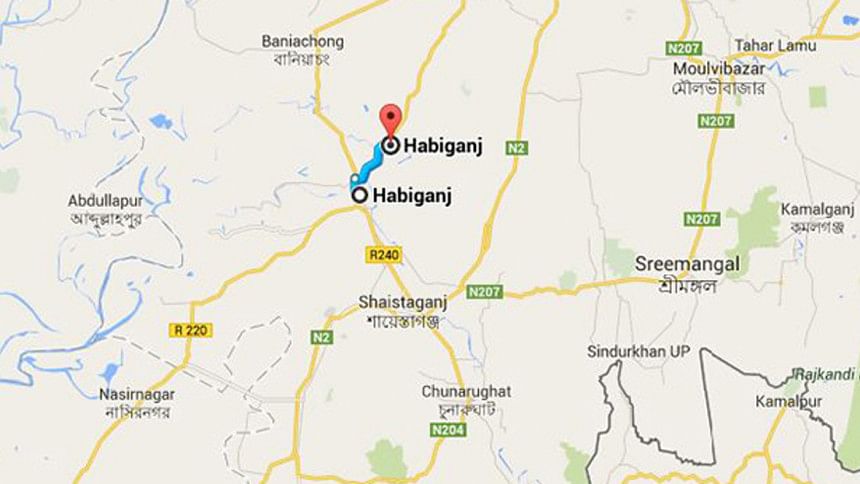 A journalist has been physically assaulted allegedly by a union parishad chairman and his associates for publishing a Facebook Live video depicting irregularity in relief distribution in Habiganj.
The incident took place yesterday at Aushkandi area under Nabiganj upazila in the district, Upazila Nirbahi Officer Biswajit Kumar confirmed to The Daily Star.
Shah Sultan Ahmed, a correspondent of daily Dainik Pratidiner Sangbad and former president of Nabiganj Journalists' Forum, reported irregularities during relief distribution by Aushkandi UP Chairman Muhibur Rahman in a Facebook Live video on Monday, reports our Sylhet correspondent quoting Mujibur Rahman, a local journalist who was present there.
Muhibur and his men swooped on Sultan yesterday afternoon when he went to report the relief distribution work for the day and beat him up with a cricket bat, leaving him severely injured. Seven other journalists also sustained injuries while trying to save him, Mujibur, who was among them, said, adding that Sultan was admitted to the Upazila Health Complex for treatment.
"After the video was posted two days ago, the chairman complained me that he was being defamed by the journalist in the video and I asked him to wait until I look into the matter. But before I talked with both parties, the chairman and his men attacked the journalist when he went to the bazaar for reporting purposes," UNO Biswajit Kumar said.
"Following the incident, the relief distribution work was halted for today (Wednesday) and will resume tomorrow, he said.
"This is a heinous crime committed by the chairman and his men, who attacked the journalist. Even if the journalist had defamed him, the matter could have been settled in a lawful manner.
"Relief packages for 100 families included 10 kg of rice in each packet, which were given to the chairman for distribution. We also added some potatoes and lentils in 40 packets and asked the chairman to give them to the extremely poor families. This difference of packets created confusion and the journalist reported the anomaly," the UNO said.
"No case has been filed in this connection yet. We will look into the matter once a complaint is lodged in this regard," said Azizur Rahman, officer-in-charge of Nabiganj Police Station.
UP Chairman Muhibur Rahman could not be reached when this correspondent tried to contact him over the phone. Someone else answered the phone and said to call again later.
Motiur Rahman Munna, general secretary of Nabiganj Journalists' Forum, said, "We strongly protest such a heinous attack on a journalist and demand justice."
On Tuesday, one person was arrested in Bhola for physically assaulting a journalist after he reported about irregularities in relief distribution.