Rayhan Kabir remanded for 13 days, determined in statement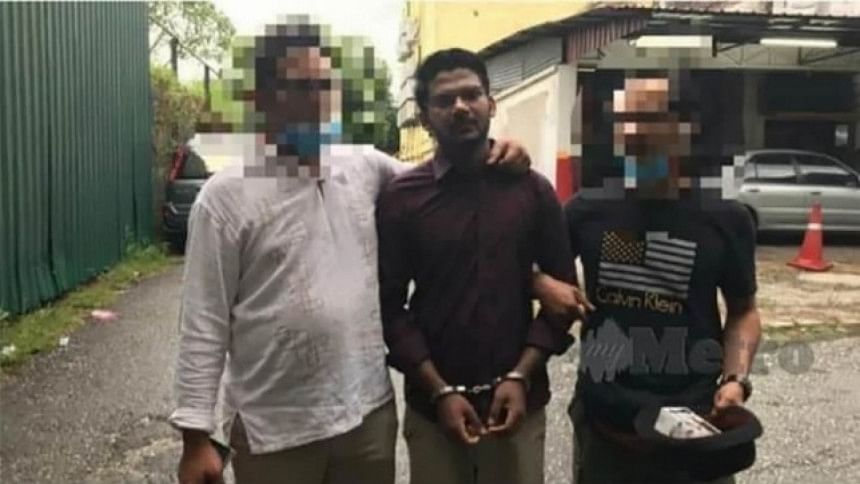 A Malaysian court has granted a 13-day remand for Rayhan Kabir, the Bangladeshi youth arrested for talking to the media about the Malaysian government's treatment of migrants during the Covid-19 pandemic, after he was brought to a court on Thursday morning.
Rayhan's lawyer Sumita Santini Kisna told The Daily Star that that on Wednesday night they got the information that Rayhan would be produced in court today.
Both of Rayhan's lawyers were present in the court. But they did not see any representative from Bangladesh High Commission in Malaysia.
Sumita said that police seek a remand of 14 days. But they opposed the court order for a 13-day remand till August 19 from today. Till now there are not any charges against Rayhan. Till now Rayhan is on that stand that what he said was his personal view and his reaction to what he saw of persons being arrested during the pandemic. But he had no intention of hurting the feelings of Malaysians and the Malaysian authorities.
On Wednesday, Immigration director-general Datuk Khairul Dzaimee Daud said Rayhan Kabir will be deported once the Attorney General's Chambers has completed looking into the investigation papers of the case. He said the department was made to understand that the investigation papers regarding Rayhan's case had been handed to the AGC.
"Once the AGC is done, we will deport him back to Bangladesh. And he will never step foot in Malaysia again as he will be blacklisted," he said at a press conference on Wednesday.
Asked how soon it would take to send Rayhan back to Bangladesh, Khairul said the Immigration Department was informed that the earliest flight available from Kuala Lumpur to Dhaka was at the end of August.
However, several Bangladeshis in Malaysia have informed me that there are multiple flights from Dhaka to Kuala Lumpur before August 31. But even then, he is being sent late. Lawyers have raised the issue in court.
On July 3, Al Jazeera published an investigative documentary titled "Locked Up in Malaysia's Lockdown". The report raised the issue of the government's repressive treatment of migrant workers in Malaysia during the lockdown. In that report, along with the citizens of many other countries, Rayhan Kabir also gave an interview, which angered the Malaysian authorities.
An arrest warrant was issued against Rayhan Kabir. He was arrested by Malaysian police on the evening of July 24.
Before arrest, Rayhan Kabir sent a WhatsApp message where he said, "I did not commit any crime. I did not lie. I have only talked about discrimination against the migrants. I want the dignity of migrants and my country ensured. I believe all migrants and Bangladesh will stand with me."
Different international and Bangladeshi organisations, including Human Rights Watch and Amnesty International, have condemned the arrest and demanded Rayhan's immediate release.
Expressing grave concern over the arrest of Bangladeshi national Md Rayhan Kabir by the Immigration Department, Malaysian rights group Lawyers for Liberty said that the authorities must stop their unlawful harassment against him.
A statement issued by LFL signed by Zaid Malek, coordinator of the LFL said, "We have scrutinised the statement made by Rayhan in the documentary and firmly restate that he has not said anything even remotely in breach of the country's laws."
The writer is a freelance journalist.