Rangamati jujube growers all smile
Farmers are cultivating different varieties of jujube like Bau Kul, apple Kul, Narkel Kul, Ball Sundori and Kasmiri Kul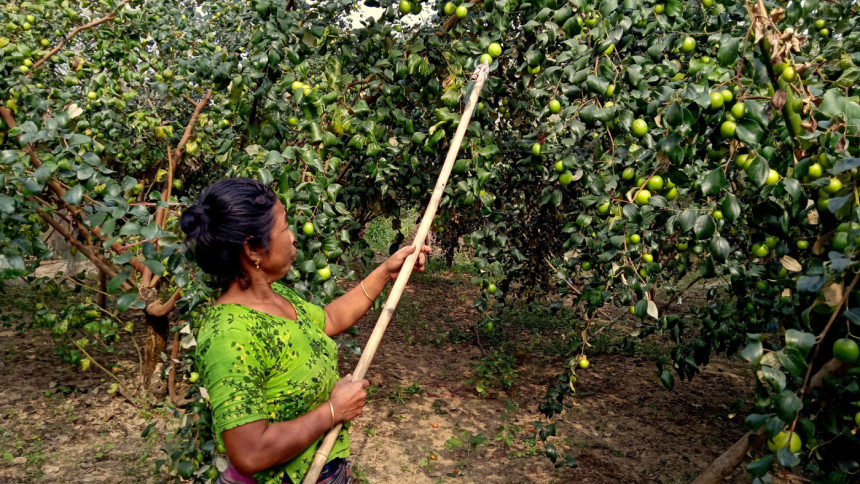 Jujube is a small fruit, locally known as boroi. Growers of the fruit in the district are now happy at getting bumper production and much higher prices.
There are different varieties of jujube including Bau, apple Kul, Narkel Kul, Ball Sundori and Kasmiri Kul. All varieties are cultivated in the district.
According to size and quality, one kg of jujube is being sold at Tk 120 to Tk 150 in the local markets, growers said.
During a recent visit to many places, this correspondent saw that the growers remained busy harvesting jujube at their orchards.
Farmer Sushanta Tanchangya, 32, said he cultivated Apple Kul, Bal Sundori and local deshi on his three acres of land five years ago.
"I am interested in farming jujube as I have been getting fair prices from selling the fruit for the last few years" he said, adding that this year, he has already sold the fruit at Tk one lakh.
Hemo Kumar Chakma, 40, a jujube orchard owner in Sadar upazila, said he is very happy at getting bumper much higher prices.
"In 2015, I cultivated jujube on 30 decimals of land. Some of the fruit started to come from 2016. I hope this year, I will get Tk 1.5 lakh. I spent Tk 30,000 for the cultivation. Last year, I got Tk 1 lakh from selling the fruit," said Hemo Chakma.
Another jujube grower Guri Mila Chakma, 55, of Sapchari village in Rangamati Sadar upazila, said she prepared two orchards on 10 bighas of land.
"I have already sold jujube at Tk 50,000 and I am hoping to get Tk 80,000 more from selling the rest of the fruit in my orchard. I spent Tk 23,000 on production," Guri added.
Fruit trader Sonamoni Chakma, 35, of Banorupa bazar in Rangamati town, said there is huge demand of jujube among the customers.
"We collect jujube from the orchard and sell it in the market of the town. We are earning good profit due to high demand. We are also sending jujubes to Dhaka and other parts of the country" he added.
Krishno Prasad Mallik, deputy director (DD) of the Department of Agricultural Extension (DAE) in Rangamati, said this year, 760 hectares of land in the district have been brought under jujube cultivation with the production target of 7,600 tonnes.
Day by day farmers have been interested in growing jujube as it brings good profit to them, said the DD.