Pushing girls into prostitution in Dubai: 'Kingpin' of human trafficking syndicate arrested, CID says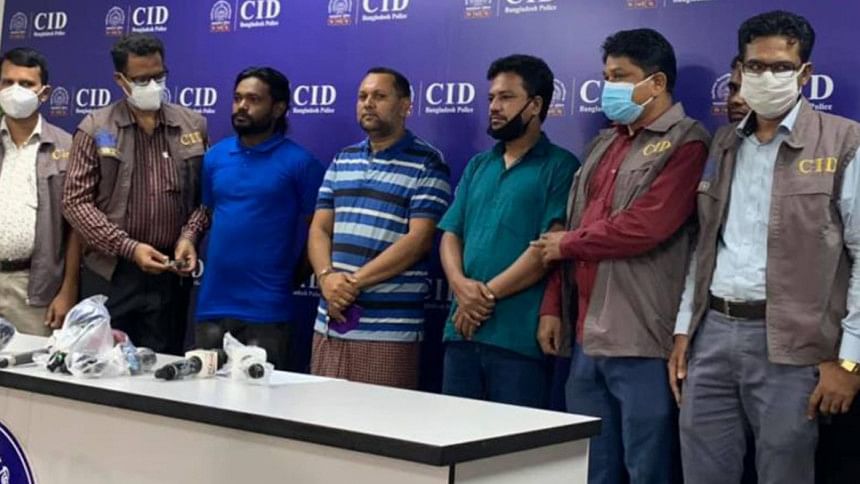 They used to lure young girls -- mostly between 18 and 20 -- with promises of better jobs in Dubai.
For the journey, they never took any money from these girls; rather they used to pay Tk 20,000 to 30,000 each as advanced salary.
Once they reached Dubai, the girls were first given jobs as receptionists or waitresses in four-star or three-star hotels. But after some time, the girls were forced to work at dance clubs and finally as prostitutes.
They used to torture the girls if they refused to work as prostitutes.
The Criminal Investigation Department (CID) claimed to have arrested the "kingpin" and his two associates of a syndicate -- involved in trafficking over thousands of girls and later forcing them into prostitution.
The arrestees are: Md Azam Khan (45), the supposed ringleader, and his associates -- Anowar Hossain Moyna (50) and Alamin Hossain alias Diamond (35).
Imtiaz Ahmed, deputy inspector general (DIG) of CID, disclosed the arrests while addressing reporters today. He, however, did not disclose the time and place of arrest.
The DIG said Dubai authorities recently informed Bangladesh Embassy in United Arab Emirates (UAE) about the criminal activities of Azam Khan. Later, the country seized his passport and sent him back to Bangladesh after providing an exit pass, he said.
"After returning to Bangladesh, Azam was trying to manage another passport and leave the country. On information, CID arrested him with his associates," he said.
The CID official said Azam Khan owned three four-star hotels -- Fortune Grand Hotel, City Tower Hotel and Fortune Royal Hotel -- and one three-star hotel, Fortune Pearl Hotel, in Dubai.
Azam has around 50 brokers in different districts of Bangladesh, who used to lure girls, promising them of jobs with Tk 50,000 salary at these hotels, he said.
Once the girls were convinced, Azam Khan then, with the support of some agencies, managed tourist visas for these girls and sent them to Dubai in cooperation with two foreign airlines, he said.
"We have found two airlines involved in taking these girls out of the country," he said.
Without disclosing names of the airlines, he further said they are investigating the role of these two companies and are also probing into the roles of recruiting agencies concerned.
The brokers used to get Tk 10,000 for convincing each girl, said the official.
Regarding the syndicate, Imtiaz said that they have come to know that Azam's brothers, now in Dubai, helped him in operating the syndicate. "Besides, we have also learnt of involvement of two Indian and several Pakistani nationals behind the racket," he said. But he refused to disclose the identities of these nationals.
"We often face problems while investigating transnational crimes," he said.
Hailing from Fatikchhri area of Chattogram, Azam was wanted in 15 separate cases including six for murder, according to the CID.
"Azam went to Dubai in 1996 and he has been involved with criminal activities for the last eight years. We also heard that he was once arrested by Dubai police and was in jail there for a month," said Imtiaz.
About the victims, DIG Imtiaz said they have found hundreds of voice recordings of young girls, requesting to allow them to return home.
The Daily Star also received some audio recording of the victims. In one of the recordings, a victim was found appealing: "Please, send me back. Do not extend my visa. I am begging you. My mother is ill."
"We are suspecting the victims may file cases with different police stations of the country. We are now looking for the cases. They would be shown arrested by phases," he said.
A case was already filed against Azam with Lalbagh Police Station on July 2 and two victims gave confessional statement against him in court.
CID is also investigating into the wealth of Azam. A money laundering case would be filed against him soon, he said.
A high official of CID, requesting anonymity, said he is one of the top financial donors of a political party of Bangladesh and also collected nomination form in the last national election from Chattogram-2 constituency from the party.
In reply to a query, DIG Imtiaz said that they primarily found his link with a political party but they do not want to disclose details as it is in primary stage.