Poor health services
C'nawabganj Sadar Hospital lacks doctors, beds for patients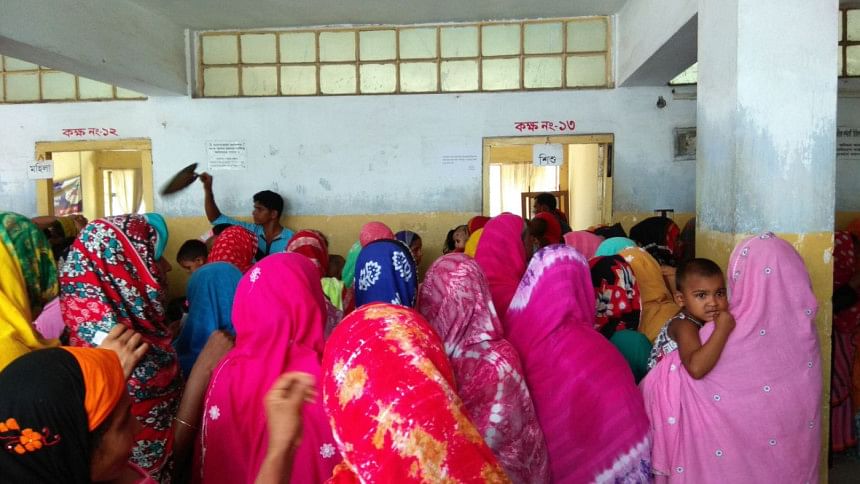 Health services at Adhunik Sadar Hospital in the district are in a deplorable state due to the shortage of doctors and accommodation for patients.
The hospital was upgraded to a 100-bed one from 50-bed capacity in September 2006 without arranging adequate manpower. While it has 100-bed capacity, it has the manpower to service only 50 beds.
This correspondent visited the hospital recently and saw several hundred patients waiting in front of the doctors' chambers and sub-assistant community medical officers were treating patients at the outdoor department.  
Mohammad Babu, 25, of Baro Roashi village under Sadar upazila, was admitted a week ago but he did not get any bed. He has to sleep on the floor, he said.
"I arrived at the hospital at 10:00am seeking help for my 13-month-old son," said Nazma Khatun from Mara Pagla village. "I was not able to see a doctor before 1:00pm. Many patients get tired of waiting and return home without seeing a doctor," she said
"I have to see up to 350 outpatients daily," said Sub-Assistant Community Medical Officer Dr Nasiruddin Ahmed. "We treat patients at the outdoor department due to the shortage of doctors," he said.
"There are only 12 doctors against 21 posts. Indoor treatment is also badly hampered due to lack of specialist doctors. On an average, 150 patients are admitted daily at different wards and 300 to 400 patients stay at the wards daily, though the capacity is only 100 beds. Around 1,200 patients take treatment from outdoors daily, so doctors cannot treat them attentively," said acting Resident Medical Officer Dr Nadim Sarkar.
The posts for six specialist doctors, two emergency medical officers, and a resident medical officer have long been vacant and there are no senior consultants in the eye, gynaecology and paediatrics departments, and no junior consultants in anaesthetics, ear-nose-and-throat and radiology departments, he said.
Only four sub-assistant community medical officers treat outdoor patients while one emergency medical officer is working at the emergency department.
The prime minister announced at a public meeting on Nawabganj Government College premises on April 23 in 2011 that the hospital would be upgraded to a 250-bed one. After her declaration, construction work of a new building started in June, 2015. The new eight-storied hospital building was inaugurated on September 29 this year.
Civil Surgeon Dr Saiful Ferdous Md Khairul Ataturk said the crisis of doctors will be solved soon.