2nd Meghna, Gumti bridges opened to traffic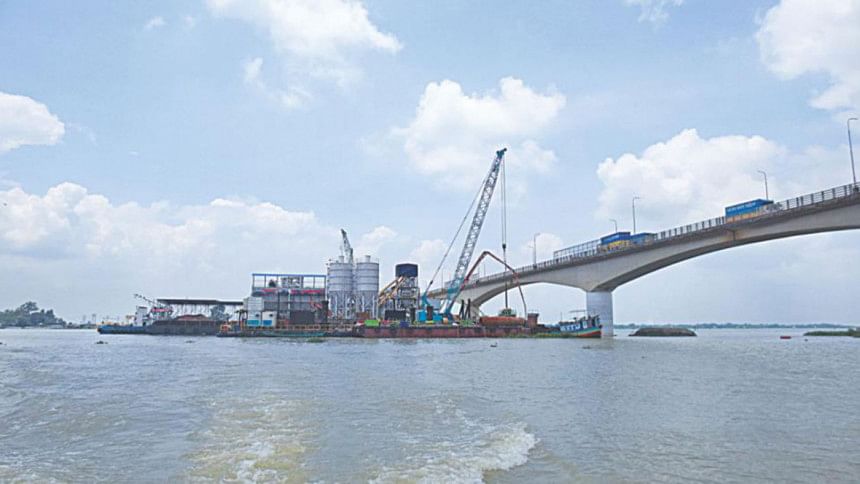 Prime Minister Sheikh Hasina today inaugurated the much-awaited 930-metre Second Meghna Bridge and the 1,410-metre Second Gumti Bridge on Dhaka-Chattogram highway, aiming to reduce the plight of travellers on this vital national highway.
The premier opened the two bridges through a video conference from her official residence Ganabhaban.
On March 16, Sheikh Hasina inaugurated the Shitalakkhya Bridge ( Second Kanchpur Bridge) on the Shitalakkhya River, another bridge of the same project.
Japanese contractors Obayshi Corporation, Shimizu Corporation, JFE Engineer Corporation, and IHI Infra Systems Company Limited started the construction of the Second Kanchpur Bridge along with the Second Meghna and Second Meghna-Gumti bridges on the Dhaka-Chattogram Highway in January 2016.
The total estimated cost of the three bridges was Tk 8,486.94 crore. Of the amount, Japan International Cooperation Agency (Jica) provided Tk 6,430 crore.
As per the contract, the Japanese firms began work in January 2016 and it was scheduled to complete within June 2019. But, the progress of the work was halted for around four months after the Holey Artisan attack in July 2016.
Later, the government extended the deadline for six months by re-fixing it at December 2019. But, the construction of the bridges has been completed around seven months before the schedule.
The work of around 400-metre new Kanchpur bridge, with a cost of Tk 950 crore, was completed in December 2017 and the new one is two metres wider than the old one. The authorities have already started restoration work on the old bridge.
The construction works on the new 930-metre Meghna and 1,410-metre Gumti bridges were completed spending cost Tk 1750 crore and Tk 1950 crore respectively.
Dual carriageway between the port city and the capital shrinks to a single one at the Meghna and Gumti bridges. The old Kanchpur Bridge is technically a dual carriageway, but its width is not adequate.
Given the situation, traffic often crawls to a halt at the approaches to the bridges. The situation worsens ahead of Eid and during weekends as more vehicles ply the highway.
The Prime Minister also opened Konabari and Chandra Flyover, Kaliakair, Deohata, Mirzapur and Gharinda underpass and Kadda-1 and Bimail bridges on the Joydebpur-Chandra-Tangail-Elenga Highway under the SASEC Road Link Project.
Road Transport and Bridges Minister Obaidul Quader and Japanese Ambassador Hiroyasu Izumi also spoke at the opening programme.
Liberation War Affairs Minister AKM Mozammel Huq and Agriculture Minister Dr Abrur Razzaque were also present.