No Health Complex: Thousands deprived of medical services
Human chains formed demanding hospital in Taltoli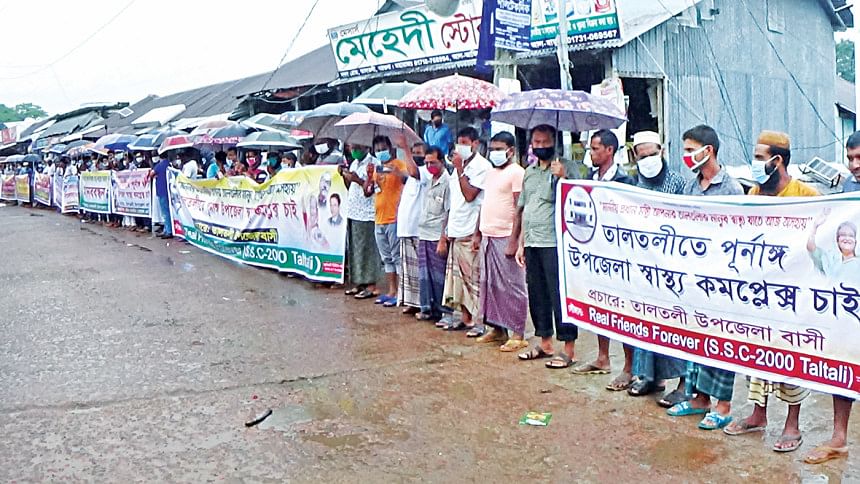 The government has declared Barguna's Taltoli an upazila on May 6 in 2010. Its administrative activities started on January 5 in 2012.
There are around three lakh people living in seven unions of Taltoli but no upazila health complex has been established here in eight years, depriving the local residents of proper healthcare facilities.
 As a result, people in the upazila visit the adjacent Amtali Upazila Health Complex for treatment. Many of them are also compelled to go to Patuakhali General Hospital or Barishal for treatment as they avoided visiting Barguna General Hospital due to fear of crossing the mighty Payra river.
There are six upazilas in the district, said local people.
On Monday morning, thousands of people formed human chains at all important places in the seven unions and Taltoli upazila headquarters, demanding establishment of a 50-bed upazila health complex in the headquarters. People from all walks of life took part in the hour-long programme amid rain. 
Rezbi-ul-Kabir Jomaddar, president of Taltoli upazila Awami League (AL) and chairman of the upazila parishad, at the programme said people are suffering a lot due to coronavirus outbreak in the country. Moreover, as there is no health complex in the upazila town, local people are deprived of healthcare service.
Upazila AL secretary and Chhota Bogi union parishad chairman Taufiquzzaman Tanu said it is high time to set up a full-fledged hospital in Taltoli because of coronavirus outbreak.
Dr Md Faizur Rahman, medical officer of Taltoli Barabagi union sub-health centre, said they have continued providing medical services to the people of Taltoli upazila on a limited scale. There is no indoor service at the sub-health centre.
Amtali Upazila Health and Family Planning Officer Shankar Prasad Adhikari said acute crisis of manpower and medicines is hampering treatment at Amtali Upazila Health Complex. During the pandemic, a portion of the medicine allotted in the name of Amtali health complex has been provided at Barabagi Sub-Health Centre in Taltoli.
Barguna Civil Surgeon Dr Humayun Shahin Khan said they have already written to the ministry concerned for establishment of a full-fledged hospital in Taltoli upazila but to no response yet.