Monu embankment under threat, needs immediate repair
Breaching at two points, 65 other locations also at risk in Moulvibazar Sadar upazila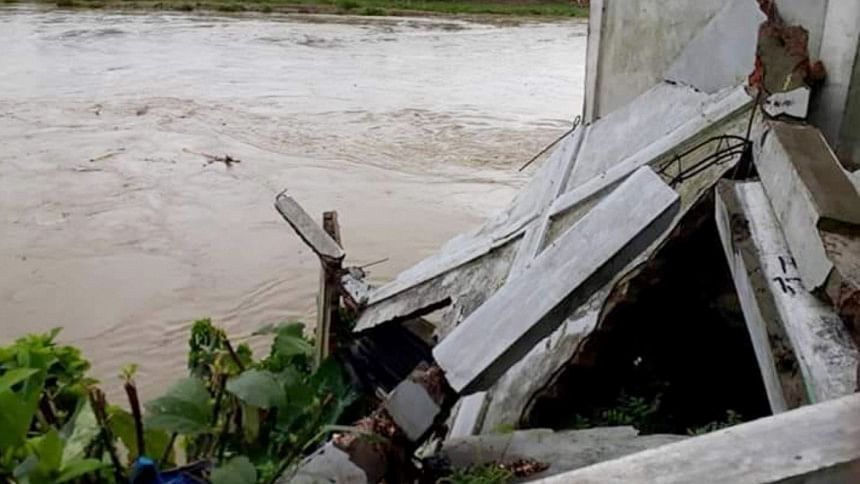 A vast tract of land is under threat of being flooded by the Monu river during this rainy season as its embankment in Moulvibazar Sadar upazila has started to breach at two locations and 65 other locations remain vulnerable. 
The most vulnerable locations spotted on the embankment are at Chatigaon, Uttar-Chati, Kakirchak, Uzirpur, Kanjirpur, Ekamodhu, Adinabad, Swashmohol, Kalaikuna, Bholanagar, Premnagar and Khas-premnagar villages under Rajnagar upazila; Chatlapur, Nishchintopur, Sultanpur, Ronchap, Madanagar, Hasimpur, Belertol, Kolirkuna, Rajapur, Ashroygram, Kotarkuna, Jalalpur, Khondakargram, Tajpur, Miarpara, Sondrabaz and Balia villages under Kulaura upazila and Noarai, Chandpur and Basudebsri villages under Sadar upazila.
Despite drawing attention to local office of Water Development Board (WDB) a number of times, no repair work was conducted as yet, alleged locals.   
Porimol Chandra Dey, president of Kawkabon Bazar Samity in Kulaura upazila, said at least 36 shops were completely damaged last year when about 50 feet of the embankment was inundated by the river.
The erosion caused damage worth of crores of taka, but the WDB still did not conduct any repair work on the embankment, he added.
Abdul Basit Bachchu, chairman of Hazipur union in Kulaura upazila, said the embankment already started to collapse at Kawkabon and Chakronchap points.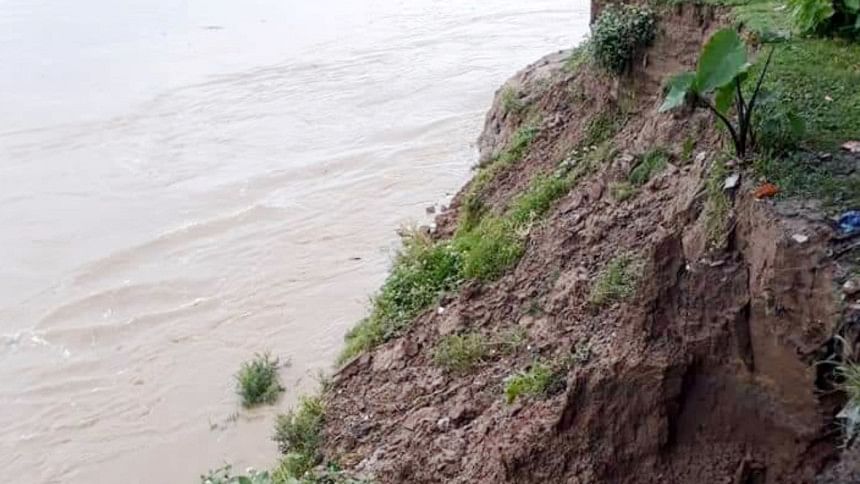 Munem Miah, a resident of Kawkabon village, said, "We are at the risk being flooded by the Monu. Heavy rains upstream in the last couple of days may trigger flash floods in the area."
Bimol Sutradhar of Ekamodhu village in Rajnagar upazila said when WDB officials inspected the embankment in the area a few months back, they told locals that they would start repair work after getting funds from the government.
Nowab Ali Bakhor Khan, chairman of Prithimpasa union in Kulaura upazila, said the embankment might be washed away if the water level in the Monu rises during this rainy season.
Meanwhile, Ronendro Sankar Chakrabarty, executive engineer of WDB in Moulvibazar, said during their survey conducted in the past 20 years, they marked 67 vulnerable points on both banks of the Monu embankment and the embankment collapsed at those points various times during the same period.
The official also said they sought Tk 1,300 crore for the repair and reconstruction of the embankment, but they were yet to receive any allocation of funds.