Mangoes from Rangamati's Naniarchar being exported to Europe for the first time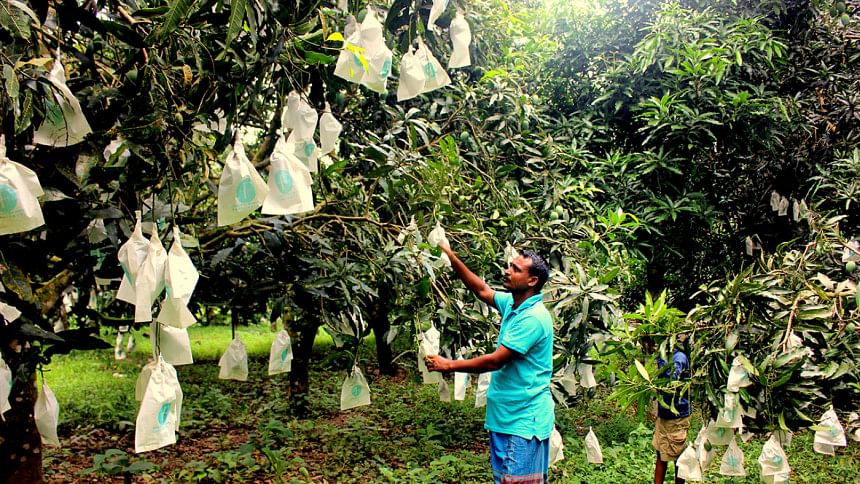 Mangoes produced organically in Naniarchar upazila of Rangamati are being exported to several European countries including Italy and the United Kingdom for the first time.
The export has begun following a joint initiative of the district's Department of Agricultural Extension and Horticulture Centre.
The authorities have set a target of harvesting 50,550 tonnes of mangoes from 3,370 hectares of orchard, sources said, adding that so far 2,600 kg of mangoes were exported to Italy and 500 kg to UK.
There is demand for about eight tonnes of mangoes in several other countries, sources also said.
While visiting an orchard in Bogachhari area of the upazila yesterday, it was seen that 15 to 20 workers were plucking mangoes from trees or packing the fruits for export.
In the same orchard, several popular varieties of mango -- Himsagar, Gopalbhog, Langra, Hadibhanga, Ashwini, Rupali and Amrapali -- are being cultivated.
"I leased this 12-acre orchard last year. Earlier the trees here did not produce much. I took advice from the agriculture officials and nurtured the trees over the last one year, for which the trees produced a very good harvest of mangoes. Now my mangoes are being exported," said Md Manik Khan (35), owner of the orchard.
Md Imdadul Haque (38) of the same area also owns a mango orchard in which 250 trees have produced a good harvest.
"Since the mangoes harvested from my orchard are of good size and taste, agriculture office selected those for export, which has encouraged me to focus on agricultural work," Imdadul said.
"Mangoes produced in the country's hilly areas have different taste than those produced in other areas. Earlier, we found difficulty to even take our mangoes to local markets due to poor communication. From this year, we have started exporting the mangoes produced in Rangamati. We are hopeful that we would be able to export a thousand tonnes of mangoes from the hills every year," said Paban Kumar Chakma, deputy director of DAE in Rangamati.
"We are also providing regular trainings to the cultivators on how to nurture the trees for better harvest of the fruit to this end," the official added.