Lalmonirhat tobacco dust factories pollute environment
About 20 factories running the illegal business, harming public health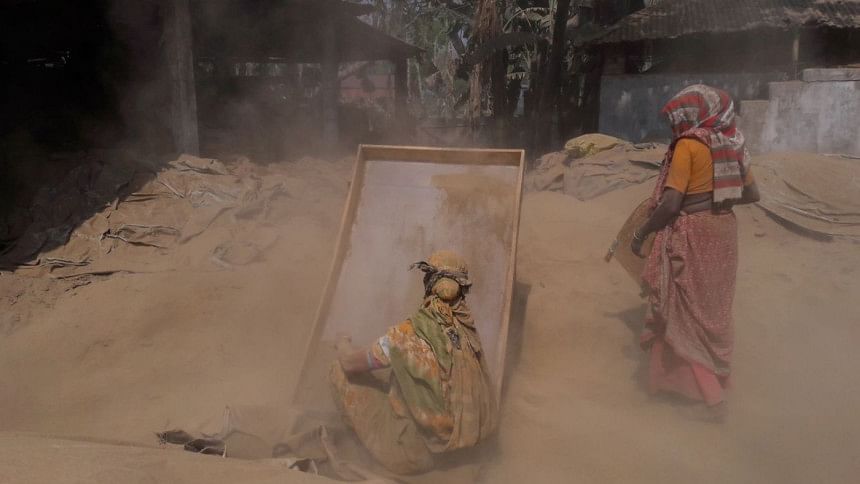 No government approval, no valid documents, yet at least 20 illegal tobacco dust factories in Kaliganj and Aditmari upazilas have been running their business for years, posing serious health hazards to thousands of locals.
Despite repeated protests, owners of those illegal factories have been continuing their production, polluting the environment in the nearby areas.
On the roadside at Baninagar village in Kaliganj upazila five such illegal factories have been in operation for the last eight years.
The five factories have been set up in the vicinity of homesteads, a primary school and a village market, despite public health ill-effects.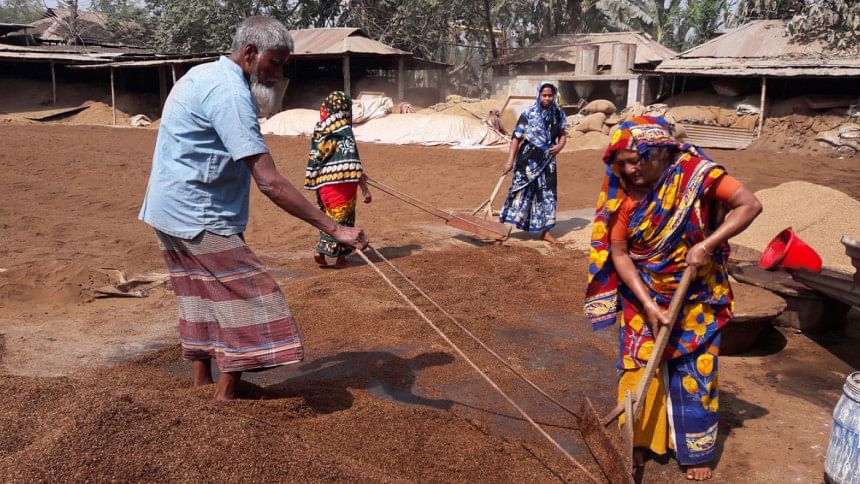 Locals said no action has been taken by the administration concerned to close the factory for reasons unknown.
Besides, many such illegal factories have been producing tobacco dust, used for making smokeless tobacco products like jarda and gul, at Bhotmari, Chaparhat, Tushbhandar villages in Kaliganj upazila and Gandhamaruya, Mahishkhocha, Saptibari and Bhadai villages in Aditmari upazila.
Shamim Hossain of Baninagar village said due to the bad smell of tobacco dust they can't even stay at homes.
"We have submitted written complaint to the local administration, but they are yet to take any action in this regard," he said.
"Instead, the factory owners often increase the amount of their production," he alleged.
"If I had the ability to shift somewhere else, I would have left this village long ago," Rashid Ali of the village said.
Class V student Shimul Islam, son of Neher Ali of the village, said he and his fellow students must hold their noses while passing the factories on their way to and from school so as to protect themselves from the wretched smell.
"Whenever the illegal dust factories are in operation, I can't stay long in my shop due to the bad smell of tobacco," shopkeeper Bulu Mia said.
Anwar Hossain, owner of one of the tobacco dust factories at Baninagar village, said tobacco dust does not pollute the environment and that they provide employment opportunity for many locals in their factories.
Head of Durgapur Union Health Centre in Aditmari Rokonuzzaman Chanchol said the centre's patients mainly suffer due to the tobacco dust factories in the surrounding areas.
Rangpur Department of Environment Deputy Director Mezbah Ul-Alam said after receiving written complaint from the villagers he asked local administration to take step in this regard.
Kaliganj Upazila Nirbahi Officer Rabiul Hasan said action will be taken against the illegal tobacco dust factories soon.