Illegal brick kilns all over Maheshpur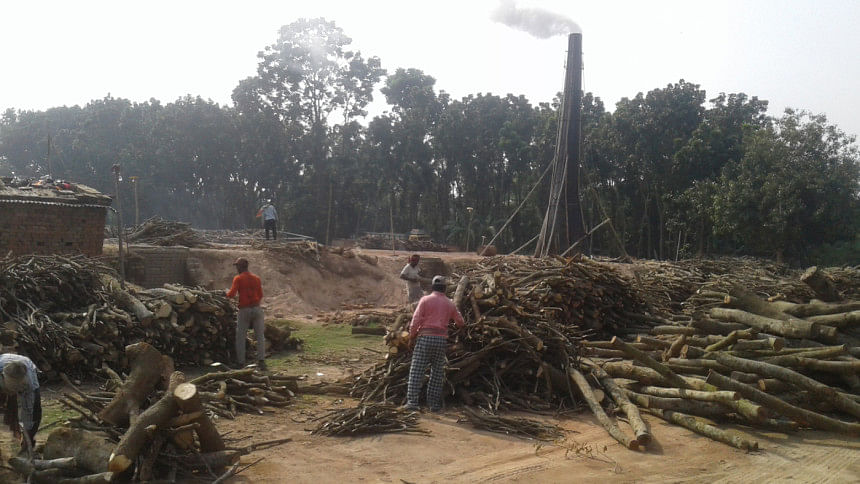 Flouting environmental laws, at least 13 illegal brick kilns in Maheshpur upazila are likely to burn an estimated 11.8 lakh maunds of firewood this year.
Out of those, 10 kilns use barrel or drum chimneys while the other 3 use fixed chimneys.
A barrel-chimney kiln usually consumes about 60 thousand maunds of firewood a year while a fixed-chimney kiln consumes about one lakh maunds, said several brick kiln owners in the upazila.
According to them, the 10 barrel-chimney kilns in Maheshpur would consume about 6 lakh maunds of firewood while the three fixed-chimney kilns would consume about 3 lakh maunds of firewood this year.
While visiting several of the brick kilns, this correspondent found huge amounts of lumber stockpiled at the yard of each of those while the area remained covered with thick black smoke spewed out from the chimneys.
Requesting anonymity, a brick kiln owner said the authorities consider issuing operation permits to only zigzag type of brick kilns, which use coal to bake bricks. 
But none of the kilns -- including Shohag, Masum, Bhai, Shakil, SBM, Ripon, MAR, Rafi, Jewel, Rado and Bahar bricks -- are zigzag types and those do not have any authorisation to operate in the area, he added.
Another brick kiln owner said lumber or firewood is readily available locally at lower prices than coal and they profit more when they burn firewood at the kilns.
Abdul Latif, owner of Raja brick kiln that uses coal in its zigzag type of kilns, said it costs them about Tk 6,500 to produce one thousand bricks, whereas the production cost for the same quantity comes down to Tk 5,000 when firewood is used.
As a result, more buyers are enticed in buying bricks from the illegal kilns due to the significant price difference, he also said.     
A local firewood trader, Golam Sarwar, said they make more profit this time of the year when local brick kilns go in full operation.
Contacted, Maheshpur Upazila Nirbahi Officer (Acting) Sujon Kumar Sarkar said they would take necessary action against the illegal kilns soon.