IFRC project resuscitates ultra-poor families in Tangail char villages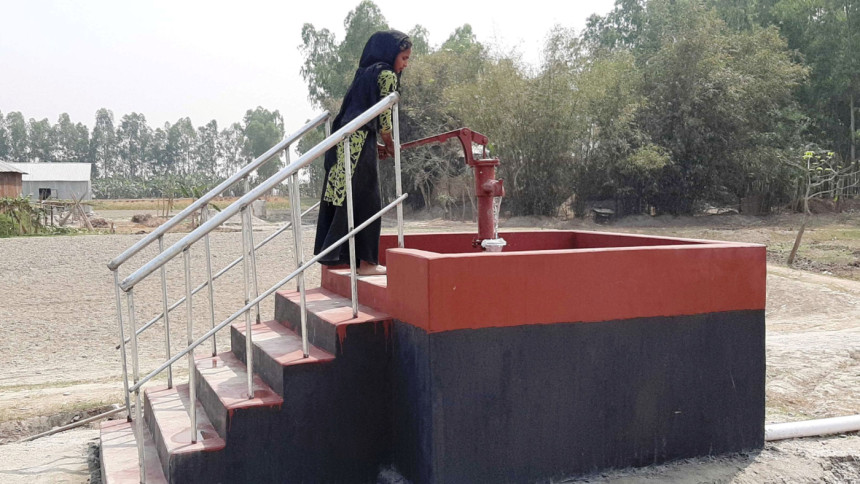 A number of families, badly affected by flood and erosion in 2019, of four remote char villages on the banks of Jamuna and Dhaleswari rivers under Hugra union in Tangail Sadar upazila have got revived hope to live thanks to the implementation of a flood rehabilitation project.
The project has been implemented by the Tangail unit of Bangladesh Red Crescent Society in association with International Federation of Red Cross and Red Crescent Societies (IFRC).
In addition to hunger pangs, the ultra-poor families of Chak Gopal, Pichuria, Gondhorbpur and Barboyra villages had to suffer from various kinds disasters including flood, erosion, storm and cold wave all the year round.
Under the project, the families have got cash assistance for constructing disaster resistant safe home, employment opportunity for livelihood, hygienic toilet and tube wells for ensuring safe drinking water.
A total of 173 families was provided with Tk 40,000 cash and 27 pieces corrugated iron sheets for constructing home and also 30 sand bags for protecting the structure from erosion, 283 families got tube wells for safe drinking water and Tk 18,000 cash for constructing a hygienic latrine on high land, and 292 families got Tk 25,000 cash for income generating opportunity.
Moreover, the earthen roads of the villages have been elevated, 1,420 feet roads repaired, and two culverts have been constructed under the disaster risk reduction.   
Housewife Amena Begum of Chak Gopal village is one of the beneficiaries. She said, "My family was facing serious problem since our house was washed away in flood. My husband and I were staying on raft keeping the children to other's house." 
"We were also struggling to manage every day meals. Besides, we were to drink river's water. Especially, I as a woman had to face serious shame attending the call of nature as our latrine was submerged during the monsoon," she said.   
"However, the bad days are over since getting financial supports from the Red Crescent for constructing a house and a hygienic latrine and setting up a tube well on high lands. Moreover, I have started a poultry farm for earning livelihood by their cash assistance," Amena said.
Jahanara Begum of the same village said, "I along with my three daughters had been living hand to mouth since the death of my husband around 20 years ago. Later we fell in more trouble after our house was devoured by flood couple of years ago."
"The Red Crescent stood beside us with cash assistance for constructing a house and a latrine and also setting up a tube well. They have also provided me an amount for buying several goats and ships for earning my livelihood," she said.     
Ziaul Ahsan, unit level officer of Tangail unit of Bangladesh Red Crescent Society, said it was a coordinated programme by which the affected families have gained the ability to construct flood resistant safe house, resuscitate their damaged livelihood and construct hygienic latrine.
Besides, the project was implemented for creating awareness among the local people over health and sewerage and also increasing their ability to face disaster, Ziaul added.
Tofazzal Hossain Tofa, chairman of Hugra union parishad, said the rehabilitation project of Red Crescent has removed the woes of the flood and erosion hit ultra-poor families of the four villages in his union.
"However, many other such helpless families remain in other villages of the union and they also need such aid," he said.