Hopes big, school small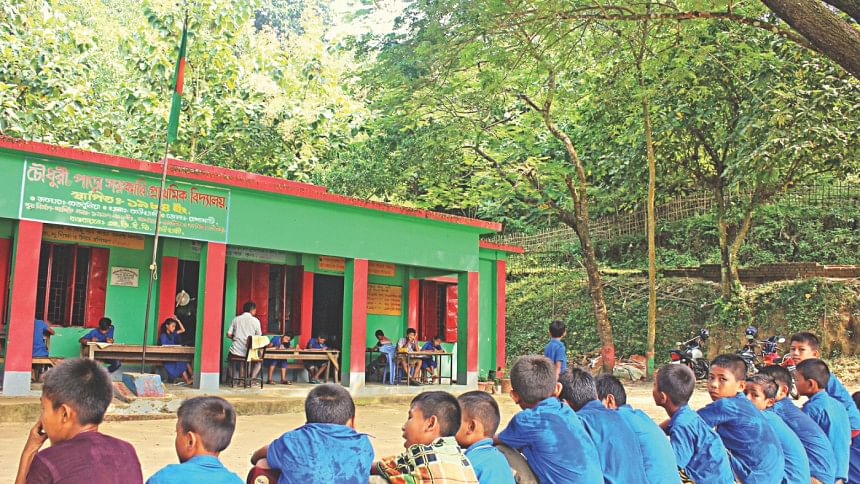 When reconstruction of Chowdhury Para Government Primary School building was completed back in 1998, its three rooms -- two for classes and the other for administrative purposes -- were probably more than enough for a sparsely populated hill tract upazila such as Kawkhali.
Since the inception of the school in 1984, the population in the upazila nearly doubled and the inhabitants have been sending their children to school more than ever before.
But unfortunately, the infrastructure of the school could not catch up with the changed mindset of parents over the past two decades. 
Against the present student enrolment of 174, the school authorities can arrange seating for only 60 students in the two classrooms at one time and around 10 to 12 more in the veranda outside the classrooms.
Currently, only four teachers offer three classes -- pre-primary, grade one and grade two -- in the morning shift and three other classes up to fifth grade in the afternoon shift.
During a recent visit, this correspondent saw children of higher classes eagerly waiting under a tree outside the school building for their afternoon classes to start.
Asked why they came to school early, they said they head out from their homes, miles away from the school, a bit early so they can get in the classroom on time.
Fourth grader Thuima Ching Marma, waiting with other classmates under a tree outside, said, "It's really difficult to study in the veranda, but the classrooms are so small that all of us can't sit together inside."
Ching Thoai Marma, a fifth grader, said paying attention to the class while sitting in the veranda is not easy because many students of other classes play in the schoolground right in front of them.    
Teachers of the school said condition of the school building, constructed by Local Government Engineering Department, is no longer safe.
During rainy season, academic activities of the school, nationalised in 2013, are often interrupted with rainwater seeping through the roof of every single room, they also said.
Saching Uye Marma, the school's headteacher, told this newspaper that student enrolment at the school is growing day by day.
With the number of students rising, it is getting more and more difficult to continue spending on maintenance of the rundown building, especially during the wet season.
"We wrote to the higher authorities for a larger accommodation many times, but did not get any response yet," he added.  
School managing committee President Thuisa Ching Marma said for the sake of the students, the authorities should soon replace the school building with a larger new one.
Hoping that the authorities concerned would take necessary steps in this regard soon, Manas Mukul Chakma, Kawkhali upazila education officer, said the higher authorities were already informed of the state of the school building.