At home in the saddle
Twelve-year-old Tasmina is a horse racing champion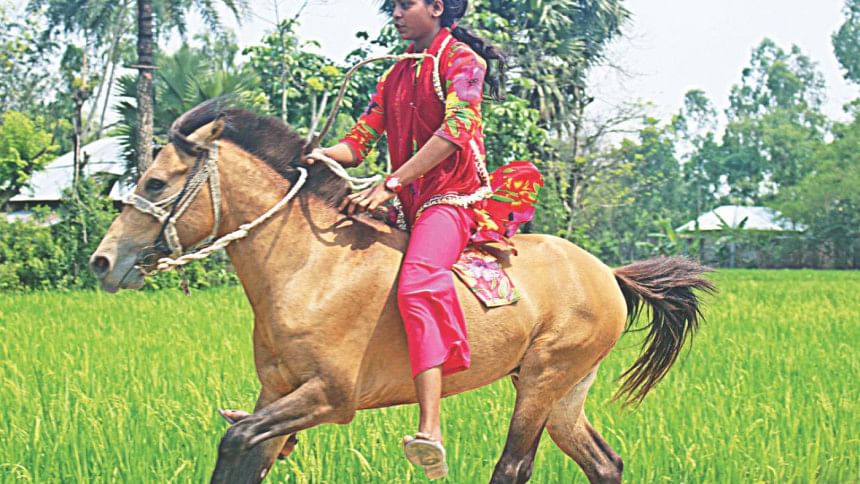 She's determined and courageous: at the tender age of twelve, Tasmina Aktar from Chak Subolpur village in Naogaon's Dhamoirhat upazila has quite a reputation in horse racing circles. The seventh-grade student is accustomed to placing first or second in any race. As a jockey she's participated in around fifty events. Tasmina is a girl undeterred, happy to compete in a sport usually reserved for men.
"Horse riding is my passion," she says. "When I race, I race to win."
Tasmina's experience with horses began when she was six years old. Her father Obaidul Hossain, a sharecropper who rears horses as a hobby, first asked his daughter to care for the pony they kept in front of their two-storey mud-brick home. Tasmina used to wash and feed the animal daily. Within a year she'd taught herself to ride, something her father couldn't do. 
In early 2014 when Obaidul decided to sell the pony, Tasmina insisted on accompanying him to the Gopalpur horse fair in Dinajpur's Ghoraghat. After the pony was sold for Tk 7000, the father and daughter randomly heard an announcement about an upcoming race. Tasmina was adamant: she would participate. But without a horse and given her father's reluctance, it seemed unlikely.
When a friend of her father's offered to loan Tasmina a horse, Obaidul's concerns proved no match for his daughter's ambition. Not yet eight years old, Tasmina sat in the saddle at the start of her first race, one young girl in a field of men. "My father was astonished when I won!" Tasmina laughs to recall that day, when she took home a mobile phone as first prize.
Over the next year she participated in more events. At Kakonhat in Rajshahi's Godagari upazila she also won. But Tasmina still didn't have a horse of her own.
As she could, she made use of Moyna, and sometimes Bizlani, two horses belonging to Mohammad Bhadu, the father of a fellow jockey. But when Bhadu died, his son decided to sell the horses, and to Tasmina's great distress they were too expensive for her father to buy.
Eventually Tasmina's father agreed to take a Tk 10,000 three-month loan and add some savings to purchase a horse at a cost of Tk 20,000. Unfortunately, that horse wasn't kind of temperament. Tasmina was often thrown to the ground.
They sold it and bought another, Sundori, who shortly died. Then the newspaper Prothom Alo which had taken an interest in Tasmina's story gave her a horse; but that animal was too young to compete.  Finally, a female member of the local judiciary found enough sympathy for a young girl without a suitable racehorse that she too, donated one. On the back of this horse, Tasmina's jockey career flourished.
As one might anticipate, the reaction of fellow villagers to Tasmina's outgoing activities hasn't always been positive. Some said the girl who is also adept at riding motorcycles would have great difficulty in finding a husband. But Tasmina doesn't dwell on such opinions.
"Tasmina knows it's meaningless to get upset about negative comments," says her mother, household manager Tohura Bibi. "Tasmina wants to ride horses and win. She won't give up her dream."
Nowadays Tasmina is a regular at racing carnivals across North Bengal. Her determination and self-confidence haven't only drawn criticism, but have also inspired.
"In sports like football and cricket, girls have already achieved some success," says local businessman, Mohammad Mofizuddin. "Tasmina is our only female jockey. With some support she could have a bright future."
"Tasmina is our pride," says Motlebur Rahman, the head teacher of Dhamoirhat Girls High School where Tasmina studies. "If she had proper training, she must go a long way!"
"Girls like Tasmina, from struggling rural families, face numerous obstacles including poverty, a lack of educational opportunity, societal pressure to marry and become mothers, and cultural barriers that can restrict freedom of movement and hamper their ability to pursue dreams," observes Fazlur Rahman, the chairman of the local Amlapur union council. "Tasmina has overcome so much! She's already triumphed."
"One day I'd like to buy a big racehorse," Tasmina says of the future, "but they cost a lot of money. I'd like to race at the international level." It's not her only ambition. "When I complete my education I'd like to join Bangladesh police," she says.