Grabbing puts canal on death throes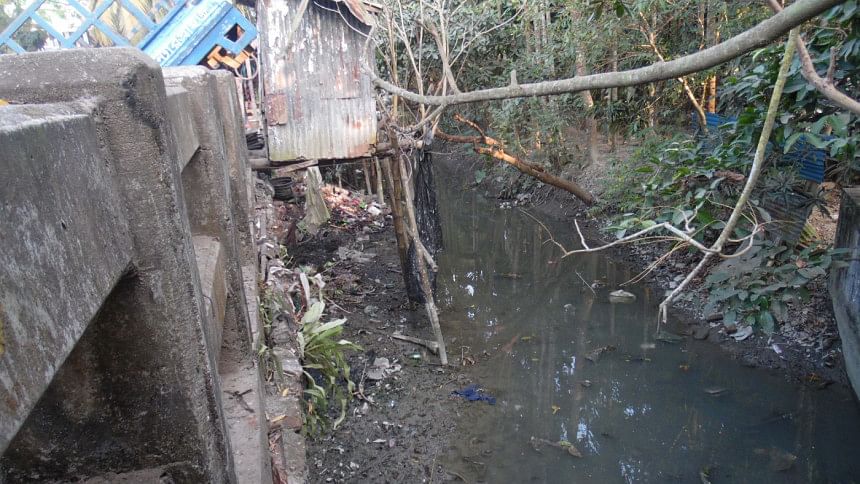 Once flowing Rajapur canal in Jhalakathi is nearly dead now, thanks to the mindless encroachment and pollution by locals on both sides of the waterbody.
The four-km-long canal, originating from the Dhansiri river and falling into the Jangalia river beside Rajapur Bazar adjacent to the upazila headquarters, also connected several small streams in the area with the two rivers.
Big boats and trawlers plied the canal only a decade ago but now it has lost navigability, said Mizanur Rahman, a college teacher.
"The grabbers, mostly the people living beside the canal, set bamboo fences on parts of the canal and gradually fill up the area with garbage and soil. If the canal disappears, Rajapur Bazar and its surroundings will be submerged during monsoon," he added.
Shops, houses, buildings and even gardens have been made after occupying the canal land, said Saiful Islam, a trader of Rajapur Bazar.
Many people are tempted to grab the canal land due to price rise of land in and around Rajapur upazila headquarters, he added.
"When the canal had enough flow, we could easily bring different products from Jhalakathi on trawlers for cheap fares. The canal also helped water communication with Pirojpur Sadar, Kaukhali and Bhandaria upazilas. But it is no longer possible," said Shajan Howlader, another trader.
Hemayet, a farmer of Angaria of Rajapur, said earlier he brought rice and other produces to Rajapur Bazar on boat and but now he has to bring them on trucks.
"Two decades ago, the canal was the main source of fish for the locals. Like me, many people used to catch fish here and sell it in the local bazaar. But now the canal has hardly any water, and hence no fish," said Hanif, a fisherman of Rajapur.
Contacted, Rajapur Upazila Nirbahi Officer Md Sohag Howlader said, "We will soon conduct drives against illegal occupiers on both sides of the canal. No illegal set-ups will be allowed on the canal. I will also take steps to excavate the canal shortly."